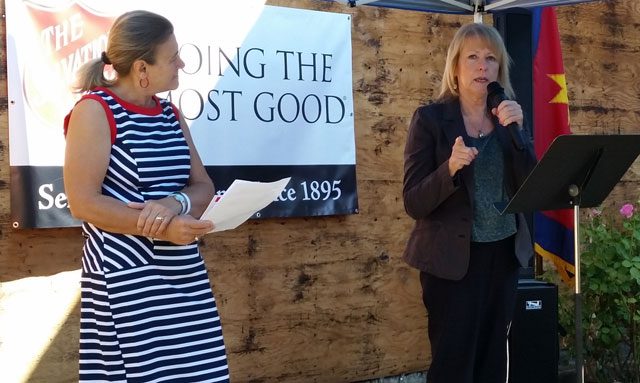 Springfield Corps expanding services
By Dorothy Brandt – 
The Springfield, Ore., corps is set to reopen its doors this month after renovations that began in July.
"This is worth celebrating," said Major Mitham Clement, Springfield corps officer.
The corps expanded its food pantry, multi-purpose room and chapel, and added a youth recreation room.
During the remodel, Springfield Corps members attended Sunday services and other meetings at the Eugene Corps.
At the remodel kick-off ceremony this summer, Salvation Army Advisory Board member Christine Stole was master of ceremonies and Springfield Mayor Christine Lundberg was guest speaker.
Lundberg recalled a time when the city needed help providing meals to community members in need.
"When no one else was willing," she said, "Springfield Corps stepped up to the plate and offered their kitchen and multi-purpose room to the city."
Cascade Divisional Commander Lt. Colonel Judy Smith commended Mitham and Angela Clement for their efforts to help Springfield grow and prosper.
The Salvation Army has served Lane County since 1895.