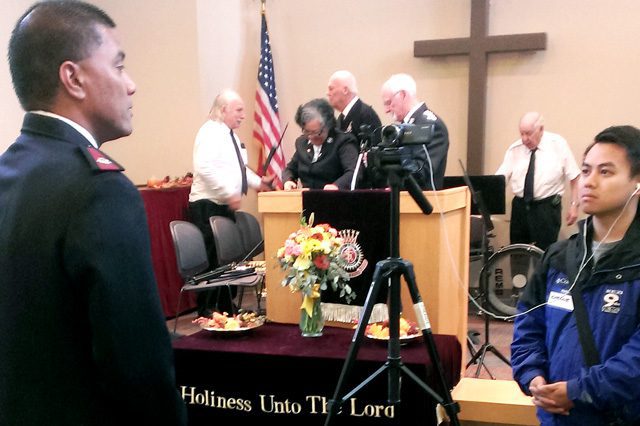 Springfield Corps holds rededication
The Salvation Army in Springfield, Ore., celebrates its expanded facility.
The Salvation Army in Springfield, Ore., celebrated its recently remodeled facility with a rededication ceremony on Nov. 8. Over 60 Salvationists and area residents attended, including Mayor Christine Lundberg, City Councilor Sheri Moore and Christine Stole, Lane County Advisory Board member.
Springfield Corps Officer Major Mitham Clement said the remodeled corps allows The Salvation Army to extend its outreach through "better services and more people to serve."
The corps reopened this autumn after renovations that included expanding its food pantry, multi-purpose room and chapel, and adding a youth recreation room.
The late Harry C. Martin of Springfield, who left a gift of over $1 million to help the local Salvation Army, received special recognition.
"We are most blessed and humble to have so many supporters locally," Clement said, "yet we also acknowledge the daughter of Harry C. Martin today and her husband Leslie Lessard of Springfield who continue to support us in many ways."
Sherry Lessard wore her father's bib overalls to the rededication ceremony.
"My father worked hard his entire life [and] owned several businesses and investments here…in trucking and agriculture," she said. "He was a frugal, humble, hardworking and generous man and he would be proud of this wonderful remodel to expand services here in Springfield and East Lane County."
Cascade Divisional Commander Lt. Colonel Judy Smith gave the rededicatory address. Majors Tom and Chris Morrow, Lane County coordinator (Tom) and Eugene corps officers, also participated. Ed Markham, from The Salvation Army's Lane County Advisory Board, was emcee. A united band from the neighboring Eugene Corps, led by Bandmaster Lars Lignell, provided music.
The Salvation Army has served the residents of Lane County since 1895.