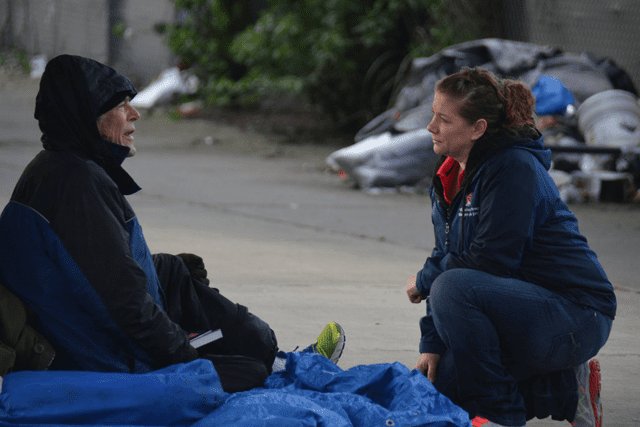 Spring campaigns 2017: seven days, countless lives
Cadets leave the campus behind to serve in the field.
By Laura Loomis, Cadet – 

Cadets from the College for Officer Training at Crestmont hit the road for spring campaigns 2017, taking their knowledge, skillsets, and passion into the field at corps across the Western Territory. A seven-day outreach initiative, spring campaigns integrate the cadets-in-training with members of the community, allowing them to gain field experience that complements their academics.
Connecting with the community is a vital part of spring campaigns for the cadets. Forming relationships with people is what they are called to do, and the impact of this connection is felt on both sides. Relationships formed during this short time period often last a lifetime.
"One of the highlights of my time on spring campaigns was meeting some key people in the San Francisco Metro area," Cadet Grant Hall said. "Both Anthony Pardi (Chef at the SoMa Corps) and Trey Hiller (Bayview Service Center) have strong testimonies about how God led them to The Salvation Army, and we witnessed how he is using them powerfully in that area today."
The ministry of spring campaigns traditionally takes many forms, from serving food to playing basketball with the teens, from cultural dance and song with the locals to open-air meetings. The cadets arrived at their appointments ready to roll up their sleeves and get right to the heart of ministry. Whatever the form of the ministry, the endeavor was always worthwhile.
Cadet Perfecta Weeden served in Fairbanks, Alaska.
"A family, new to the area, had attended on Sunday for the first time, and met up with the brigade to participate in the open air with us," she said. "This family went to every event put on by the brigade. They told us their son felt at home for the very first time since their move. Praise God!"
Weeden experienced one of the driving forces of The Salvation Army: to help others feel like they have a safe and comfortable place to belong.
The cadets offered their talents to leading worship, vacation Bible school, devotions, and even creating beautiful works of art. They sang and played instruments, and some even looked up Mandarin phrases online to better communicate with the locals. They reached out to the homeless, picked up trash on the streets, and packed food bags for the Army's social services outreach, often in inclement weather. Yet, they never missed an opportunity to pray with young and old alike, offering the hope of Christ with a smile and a warm embrace. Although it was just seven days, the cadets touched countless lives. All in all, it can be said that they let their lights shine for the glory of God.
Let your light shine before men in such a way that they may see your good works, and glorify your Father who is in heaven
(Matt. 5:16 NAS).