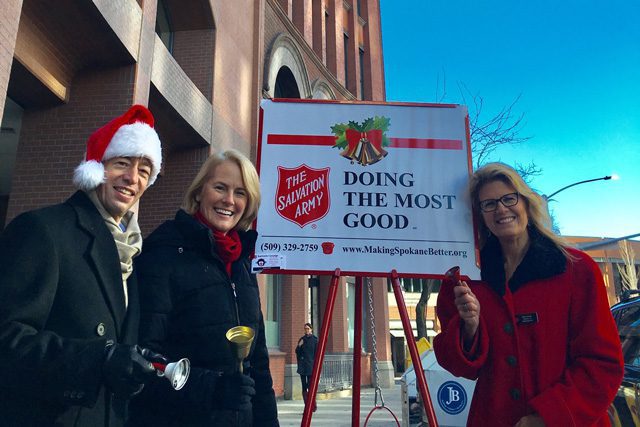 Spokane Salvation Army builds new corporate partnerships
Inaugural one-day event raises nearly $22,000.
By Kathy Kramer –
One Friday, the first day of the 2017 Red Kettle campaign, 15 leading Spokane, Washington, companies partnered with The Salvation Army of Spokane to launch the first-ever corporate component of the annual Red Kettle Kick-Off.
"[We] have a great deal of respect and admiration for The Salvation Army and the work that it does," said Washington Trust Bank CEO Pete Stanton, who led the event with his wife Denise. "It serves more people than most of us realize and does it in a very cost-effective manner. We got involved in the Kettle Kick-Off to give the annual campaign better visibility and to remind everyone of the importance of giving to such a wonderful organization."
Spokane Corps Officers Majors Kenneth and Jennifer Perine thanked all who contributed to the success of the event.
"With Washington Trust leading the charge, this year's start of the kettle season was very special," Ken Perine said. "Multiple financial institutions partnered with us to raise funds for our friends and neighbors in need."
A Salvation Army band played while the bell ringers interacted with shoppers. An occasional blast of icy wind blew through the cheerful holiday kettle scene, prompting several participants to mention that they had a better understanding of what their homeless neighbors might face daily on the streets.
As new friendships formed within the business community, the bell ringers achieved their goal of raising money to benefit the underprivileged children and adults that The Salvation Army of Spokane serves.
"I was inspired and humbled by those who took time out of their busy lives to enter the cold and wind to ring a bell of hope and love for others," Perine said.
All the funds raised—$21,949—will be applied toward the $8 million the Spokane Salvation Army invests annually in its community, benefitting over 49,000 people each year. Every single company that participated requested to be a part of next year's Kettle Kick-Off.
In Spokane, kettle proceeds support Stepping Stones Transitional Housing, a 30-unit apartment complex for homeless families with children that are at or below 30 percent of the area median income for Spokane County; Sally's House, an emergency receiving facility for children ages 2–12 that are removed from their home due to abuse, neglect, abandonment or criminal activity; and the largest food pantry outlet in the community, distributing 2.6 million pounds of food each year to over 17,000 individuals in Spokane County.