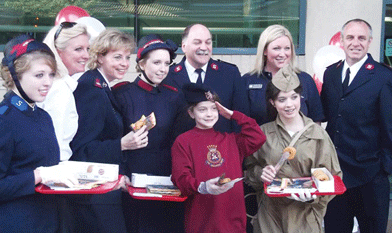 Spokane Corps celebrates 120 years of service
The Salvation Army salutes the past and looks to the future in Spokane, Wash.
By Lisa R. Smith, Major
Spokane Citadel celebrated 120 years of Salvation Army ministry in the community Aug. 22, along with Territorial Leaders Commissioners James and Carolyn Knaggs and newly appointed Divisional Leaders Majors Doug and Sheryl Tollerud.
Opportunities for celebration and service abounded, beginning with an early-morning distribution of doughnuts and flyers at the downtown bus station, just a few feet from where the first Salvation Army open air took place 120 years ago. Several participants donned old-fashioned navy blue uniforms with bonnets, while others wore WWI doughnut girl khaki. Spokane's citizens welcomed the free treats and many expressed appreciation for the work of the Army in their city.
During an anniversary luncheon at the historic Davenport Hotel, Knaggs spoke about the mission of the Army to a full house of 150 community leaders, top donors, local government officials and Spokane Advisory Board and Women's Auxiliary members. Advisory Board member Carl Lind received the William Booth Award for his support of the Spokane Salvation Army over the past 31 years.
Later that afternoon, the Spokane Brass Band and Timbrels joined other corps members to proclaim the good news of salvation through Christ in the streets of downtown Spokane. Several passersby stopped to hear Captain Kyle Smith, corps officer, preach the gospel message.
After the open air, everyone was invited back to The Salvation Army campus, a city block containing the Spokane Corps Community Center, Family Resource Center (food bank and social services office), Sally's House (24/7 emergency foster care receiving unit), Family Shelter (18-unit emergency shelter), and Stepping Stones (30-unit transitional housing program). A crowd of over 300 gathered for a barbeque and praise rally in Sally's Park, a field the corps uses for outreach events all summer long. Spokane Corps music forces, including the brass band, timbrels, praise team, gospel choir and singing company joined soldiers and friends to praise the Lord for his faithfulness and to proclaim again the gospel of Jesus Christ.
During the praise rally, long-time soldiers of the Spokane Corps were honored, including Joe Hoogstad (76 years of soldiership in Spokane), Maude Hoogstad (74 years), Helen Dorman (74 years) and Marge Prothero (67 years). Before Knaggs gave his Bible message, Spokane soldiers and employees presented a drama depicting the history of the Army's ministry from its earliest days all the way to the current ministries of the Spokane Salvation Army in 2011.
"It was a great day of celebrating the past while looking forward to the future," said Klye Smith. "The Salvation Army in Spokane has always been known for reaching out to include the excluded. We're not a club here, we're a frontline ministry seeking out the vulnerable and the hurting—the 'whosoever!' With God's help and by the leading of his Spirit, we will continue this effective ministry. The words we sang at our praise rally sum it up, 'Greater things are yet to come!'"