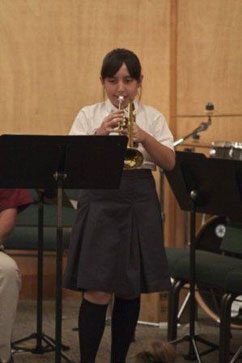 Southwest Music Camp
"]
Participants in the 2010 Southwest Music School at Camp Ponderosa Ranch in Heber, Ariz., in July set a record high according to Divisional Music Director Ralph Pearce.
Approximately 175 students ranging in age from 6 to 17 gathered for instruction in brass, voice, timbrels and ribbons, guitar, percussion and—for the first time—drama. This was the largest group of students in the history of Southwest divisional music camps.
Students and instructors came from all corners of the division: Arizona, New Mexico and Clark County, Nev. Many corps have started junior music programs that meet on a regular basis and their progress is becoming evident.
"It was one of the best camps I have seen…the students knew about the instruments they were playing and did not just dust them off to come to camp," music instructor Steve Wycoff said.
He added that all soldiers should encourage young bandsmen and women, as they are not only the future of the Army's music, but also of the Army itself.
Using timbrels, ribbons, and sign language, the two groups learned routines to Erik Silfverberg's "Fill the World with Music." Also for the first time, students in the advanced band accompanied the timbrelists rather than a recording.
"For the first time we had two timbrel groups…I was encouraged to see the enthusiasm of both groups," timbrel leader Lorraine Andreasen said.
Two soloist nights gave the students an opportunity to compete and showcase their talents. The Senior Soloist award went to Paige Maroney from Mesa Citadel, Ariz. The youngest camper, 7-year-old Zachary White—also from Mesa Citadel—took both the Junior Soloist and Junior Music School Champion awards. Other award winners were Marrissa Green from Phoenix Citadel, Dominique Scruggs from Tucson Amphi, Angelica Ortiz
from Chandler, Jade Lee from Phoenix Citadel and Kenny Heineman from Prescott.
An additional prize is given as an incentive for corps to continue their brass band programs. This year, Las Vegas Citadel and Mesa Citadel corps tied for the Southwest Music School Band Award. Both received brand new cornets.
The final concert displayed not only the large number of students, but also the high caliber of their skills. The visible progress from the previous year is an encouragement to everyone who loves Army music. These children are tomorrow's leaders and the future looks bright!