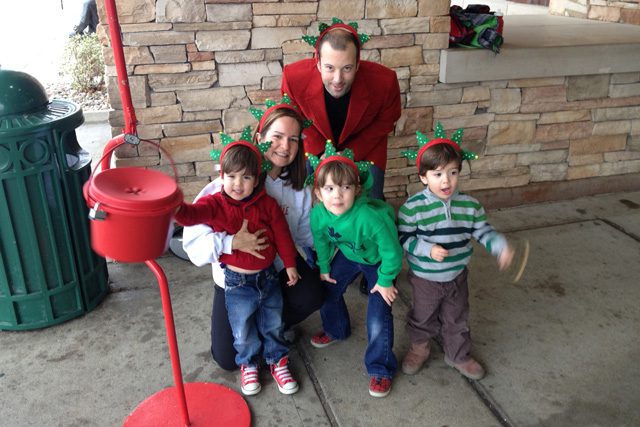 Southwest leads 2017 kettle volunteer hours
Last year Southwest volunteers rang bells for more than 30,000 hours.
By Hillary Jackson –
Last Black Friday, the Walmart in Sierra Vista, Arizona, was flanked by uniformed, armed Cochise County sheriff's deputies. They weren't there for the crowds. They were there to ring bells.

In the small community of Sierra Vista, Corps Officer Captain Carlos Souza said the sheriff, Mark J. Dannels, is a well-known personality. Since the sheriff's department historically supported The Salvation Army, Souza took them a specific request.

"I told them: For us to do what we do and increase services, I need help," Souza said. "I need bell ringers."

Dannels and his deputies signed up for a two-hour shift on Black Friday. Dannels ended up ringing bells for 10 hours, and the group earned almost $3,000 for The Salvation Army that day.

According to a Southwest divisional report, 93 percent of the Sierra Vista Corps' kettle revenue was from volunteer bell ringers in 2017, something Souza said took a great deal of intentionality.

"You have to be determined to ask and continue to ask," Souza said, noting he's gotten his fair share of "nos."

When people have a good first bell ringing experience, he'll ask them to post to their social media channels about it, and sometimes they will.

By being intentional about recruiting bell ringer volunteers, the Sierra Vista Corps was able to secure more volunteer hours at the kettles (1,894) than any other corps in the division, including larger metro areas with higher numbers of kettle sites.

According to 2010 Census data, Sierra Vista has a population under 44,000. The city is 75 miles southeast of Tucson, which had a recorded population of 520,000 in the same census.

The Sierra Vista Corps is on track to a volunteer-only model for kettle bell ringers. Last year, Territorial Commander Commissioner Kenneth G. Hodder set a goal of increasing volunteer hours at the kettle by 25 percent. This year, he wants to build on that goal, and reach another 25 percent, so that by 2019, half of all kettle hours are manned by volunteers in the Western Territory.

Data from the Western Territory's 2017 kettle campaign shows the Southwest Division led the divisions with more than 30,000 volunteer hours, followed closely by Intermountain, with more than 29,000 volunteer hours.

"More volunteer bell ringers means less paid staff at kettles, which means more of the money donated can be used to fund various local programs," said Danielle Shankle, the Director of Volunteer Services at Southwest Divisional Headquarters.

Shankle recruits kettle volunteers and says testimonials from current volunteers, along with offering opportunities for families, school groups, businesses and other organizations help to encourage others to join in volunteering.

Sharing that bell ringing at a Red Kettle for one hour can raise enough money for The Salvation Army to feed a family of four for an entire week is impactful, Shankle said.

"People want to volunteer to give back to the community, because they have a personal connection to the cause," Shankle said. "It could be that they were helped by The Salvation Army in the past or feel that we are doing the most good in their community."

In 2017, The Salvation Army Red Kettle Campaign raised $144.5 million to provide food, shelter and social services to nearly 25 million Americans in need. Last year, volunteers in the Western Territory rang bells for 158,899 hours, up eight percent from 2016's totals.