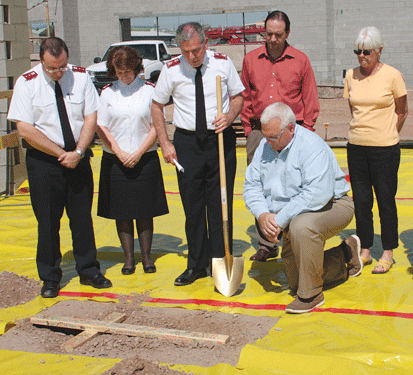 Southwest DHQ built on the cross of Christ
By Heather Andreasen
The new Southwest Divisional Headquarters building, currently under construction, has the cross of Christ as its foundation. Literally.
At the Deeper Life meetings held over Labor Day weekend, Territorial Commander Commissioner James Knaggs presented a message about being united to Christ, by Christ, and for Christ. Using basic 2 x 4s, he formed the pieces of wood into a cross. Delegates were then invited to sign the cross as a symbol of their dedication to God.
In a brief service Sept. 28, that cross was placed into the foundation of the new building, located in the floor of what will be the main hallway.
Lt. Colonel Joe Posillico, divisional commander, reminded participants of the concept shared by Knaggs. He said that being united to Christ, united by Christ, and united for Christ "is our spiritual commitment that we are making as the cross becomes a permanent part of the foundation of this building."
Posillico shared the following words from Paul's letter to the Corinthians: By the grace God has given me, I laid a foundation as an expert builder, and someone else is building on it. But each one should be careful how he builds. For no one can lay any foundation other than the one already laid, which is Jesus Christ (1 Cor. 3:10-11).