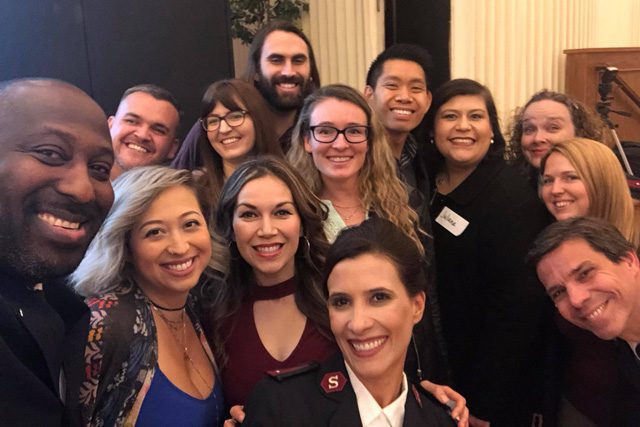 Southern California Division launches first Echelon chapter
Ventura, California, adds its name to a growing list of chapters in the West.
In culmination of nearly two years' planning, The Salvation Army in Ventura, California, officially launched its Echelon chapter at the Poinsettia Pavilion on March 3.
With Southern California divisional leaders and the Ventura Corps Officers on hand, Chapter President Joey Zumaya welcomed all in attendance and shared a little about the chapter's ongoing and future work.
"We're going to do some special things. We're going to make a big difference and a big impact," Zumaya said, addressing the Echelon members. "And each and every one of you, with your busy schedules and your deals that you're trying to close, you'll be able to look back and say that you made an impression on this community."
The chapter marks the first to launch in the Southern California Division and just the sixth in the USA Western Territory, which currently has nearly 20 more chapters in varying stages of development.
While the Echelon movement has found a home in many major metropolitan markets—take Dallas, Chicago and San Francisco—Zumaya noted the significance of a chapter taking root in a city of just 100,000 people.
"I think that's a testament to the team that we have, and how much hard work everybody's put in to make this happen," he said. "We're here to serve our community, we're here to build relationships and we're here to have fun."
The Ventura chapter, which began to take shape about a year ago, had originally targeted a launch for late 2017. But on Dec. 4, the Thomas Fire erupted—later becoming the largest in California's history—putting those plans on hold and delivering a grueling test to the region.
"The Thomas Fire really changed our whole community," Zumaya said, looking around the Poinsettia Pavilion, which, just three months ago, served as one of the primary assistance centers for victims of the disaster.
Right in the midst of kettle season, The Salvation Army mobilized to serve those impacted by the fires, all while continuing its flagship fundraiser. Echelon members were instrumental in the response, stepping up to serve meals and water as well as assemble care packages for families impacted by the blaze.
After thanking everyone for their hard work to get the chapter up and running, Zumaya handed it off to Southern California Divisional General Secretary Major Osei Stewart, who installed the chapter's nine board members: Joey Zumaya (President), Zenaida Kleiner (Chair, Development), Megan McKiernan (Chair, Communications), Salena Bracamontes (Chair, Corporate Relations), Juliana Ramirez (Chair, Finance), Jake McKiernan (Chair, Public Relations), Raschel Grant (Chair, Membership), Ashley Pope (Chair, Events) and Alex Tran (Chair, Administration).
Divisional Commander Lt. Colonel Kyle Smith closed the event with a few words, acknowledging the role of groups like Echelon to supercharge the work of The Salvation Army.
"Without the community coming alongside us, The Salvation Army is ineffective, so we thank you for the work that you're doing," Smith said.
Echelon Ventura's next project is to raise money to send 40 local kids to summer camp at Camp Mt. Crags and Gilmore in Calabasas, California.