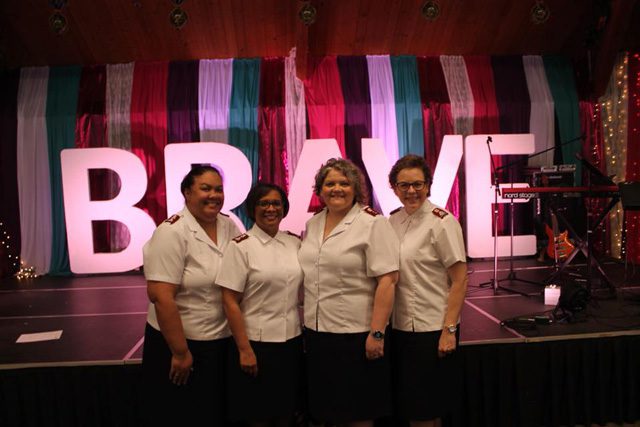 Southern California celebrates "Brave" women
More than 500 women gathered at Camp Mt. Crags in Calabasas, California, to deepen their relationship with Jesus Christ during the Southern California Division's 2018 Women's Retreats, themed "She is Brave," based on powerful words from Joshua 1:9: "Be bold, be brave, be courageous."
To include as many women as possible, the division held a Latina retreat March 2–4 and an English one the next weekend; attendees ranged in age from 18–75.
Guest speakers Major Margaret Davis, Massachusetts Divisional Director of Women's Ministries; Captain Arlene DiCaterina, Queens (New York) Temple Corps Officer; and Captain Dianne Madsen, Gresham (Oregon) Corps Officer, provided inspired Bible teaching during the main sessions. Southern California Divisional Director of Women's Ministries Lt. Colonel Lisa Smith also participated, leading the final main session on Sunday.
A number of "Brave" workshops offered women tools to be courageous in Christ in their lives back at home. Free time allowed women to rest or spend time with friends both new and old. A Brave Party featured a costume contest, along with karaoke and a Soul Train conga line. At the final meeting on Sunday, women prayed at the altar and received prayer and Scripture verses at hand washing stations.
"I struggled with the decision to attend, as I was facing a major challenge at home," said delegate Karen Gleason. "But the experience proved to be just what I needed—restoring and equipping me to face the challenge with Christ's strength."
Major Lynn Stewart, Southern California Divisional Women's Ministries Secretary, organized the events.
"Our prayer is that the women will not forget what they have learned, but that they will continue to be 'Brave' and follow Jesus," Stewart said. "We give God praise for all he has done."
"Yes, be bold and strong! Banish fear and doubt! For remember, the Lord your God is with you wherever you go (Joshua 1:9 TLB).