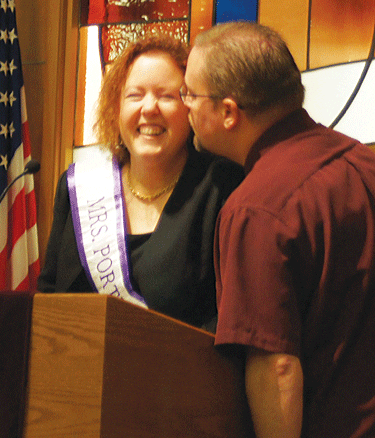 Soldier enters Mrs. Oregon International Pageant
Wins Mrs. Congeniality award 
Lauralee Balash, a first-generation soldier at the Portland (Ore.) Tabernacle Corps, walked across the stage March 10 at the Mrs. Oregon International Pageant with determination—not so much to win the crown, but more to check another item off her "bucket list." Her four outfits—clothing, shoes and jewelry—came from The Salvation Army's Happy Valley Family Store, which also sponsored her.
Because the pageant was based on what a woman does rather than her appearance, she knew she had to go for it. For years, Balash has lived with a genetic kidney disease and a neurological disorder called Arnold-Chiari malformation. She recently discovered she has multiple sclerosis.
"This is something I knew I was going to do," Balash said. "The Salvation Army has been a group of sincere believers, and I have been blessed with wonderful people at the Portland Tabernacle Corps who shown support for me along the way." Several of those supporters were at the competition to cheer her on, and in the end, Balash won the Mrs. Congeniality award.
Balash is an active corps member, serving in the women's, youth and community care ministries at the Portland Tabernacle, where Lt. Raymond and Major Nancy Dihle are corps officers. She recently lost 60 pounds to participate in TV's "The Biggest Loser" commitment to donate a dollar to the Oregon Food Bank for each pound lost by viewers. To check off the next item on her bucket list, Balash plans to shave her head for charity.
"That's just me," she said. "If it helps somebody else, it motivates me more."