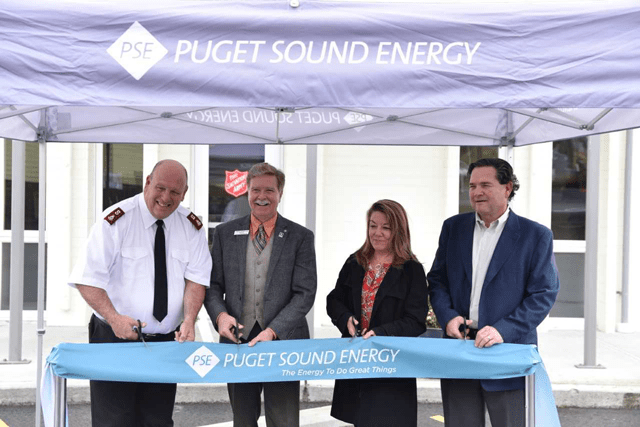 Solar panels save energy costs in Bremerton
By Callie Hall –
The Salvation Army Bremerton (Washington) Corps is nearing completion of a $50,000 solar project that's expected to help redirect money back into the community.
Puget Sound Energy (PSE) issued a grant in December 2017 to put 48 solar panels on the roof of the corps. This came on the heels of another grant from PSE to install a generator in Bremerton to prepare the corps as an emergency warming center in case of disaster.
"Our relationship with PSE through the generator and the solar panels has given us added capacity to serve those in need," said Major Scott Ramsey, Bremerton Corps Officer.
"Any money saved goes directly back into services."
Thanks to this unique partnership with PSE, the Bremerton Corps will save about $1,400 per year on their energy bill, along with additional incentives from the state for using renewable energy. This was one of only five similar projects completed by PSE this year.
On June 14, the corps held a solar array dedication and ribbon cutting. The event was attended by PSE and corps staff members, community members, and Bremerton Mayor, Greg Wheeler. Both PSE representatives and the mayor discussed the benefit to the entire community as lower bills mean The Salvation Army can serve more people.
"The Salvation Army is doing great things for this community," said Heather Mulligan, who's heading up the project for PSE. "We know they can put more money into helping people."
The panels were installed by a local company, South Sound Solar. They just passed final inspection and will begin working next week. The entire project, from funding to finish, took about six months to complete.