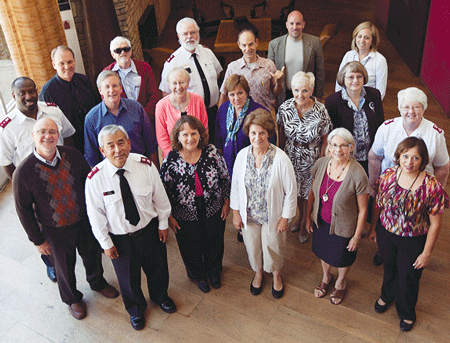 Social Services Roundtable discusses territorial efforts
The 2012 Social Services Roundtable, held in Long Beach, Calif., presented more than a dozen ways the territory serves: from ministering to veterans, job training for the working poor to finding homes for the homeless.
The theme for the event came from John 15:5: Jesus said, "I am the vine; you are the branches. If you remain in me and I in you, you will bear much fruit; apart from me you can do nothing."
Three notable programs discussed at the roundtable include: the Pathway of Hope initiative implemented in the Central Territory and under consideration in the West to provide enhanced case management to vulnerable families through designated corps social services; the California United Project engineered by Major Sherry McWhorter to make the state aware of the work the Army does in California with 483 social service programs and a nearly $210 million budget; and MissionBridge, a missional approach to link social services with the corps via a certified training for designated Salvationist chaplains, orientation for corps soldiery, evaluation and development of evidence-based practices and the creation of a new type of social service linkage, the MissionBridge Corps.