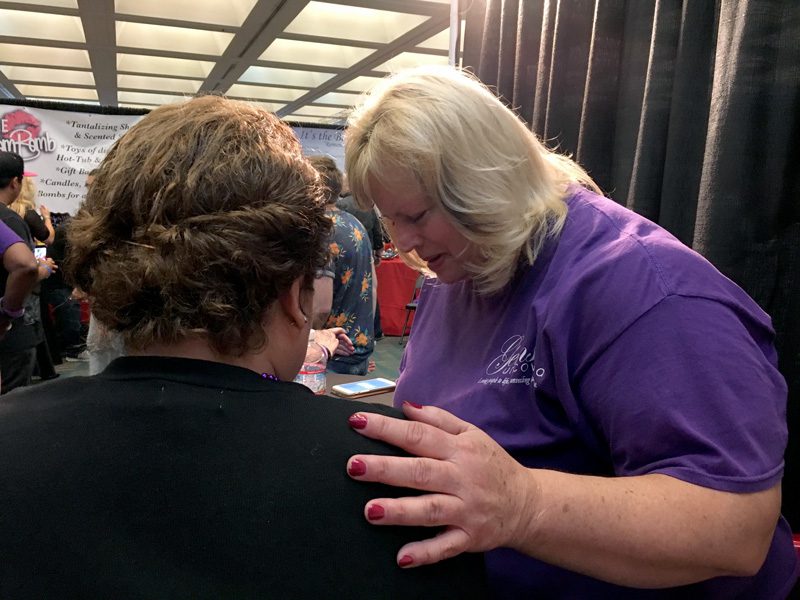 Social Justice Department attends 2016 AdultCon
Booth offered fair trade chocolate, Scripture and awareness on the global campaign to stop human trafficking.
By Jackeline Luna – 
The Salvation Army Western Territory Social Justice Department, in partnership with Gems Uncovered, a human trafficking task-force based in Long Beach, Calif., attended AdultCon for the first time recently at the Los Angeles Convention Center to raise awareness about human sex trafficking.  
Adultcon is a pornographic film trade fair held three times annually with two conferences in Los Angeles and one conference in Las Vegas.  
Yet at The Salvation Army booth, located in a prime spot across from the strip club booth, visitors received fair trade chocolate, Bible literature, and information about Stop the Traffik, the global campaign to stop human trafficking. Books and items crafted by former sex trafficking victims were available for purchase.  
The International Labor Organization estimates that there are 20.9 million victims of human trafficking globally, and so the Army's premise at the convention was simple: People shouldn't be bought and sold.
"We are inviting attendees to help us fight trafficking," said Territorial Social Justice Secretary Major Danielle Strickland. "We're not there to lecture them or tell them that they're [the women at the event] necessarily trafficked. We are just going to educate them on trafficking."
Eleven female volunteers completed a training session with Strickland, who has attended several adult conventions with the Army in Canada and Australia. She advised each one to support each other through prayer.
"I was completely blown away," said Captain Erika Hernandez, assistant to the territorial social justice secretary. "I didn't expect so many people to be receptive, vendors and attendees. I was surprised as to how well the volunteers were doing in that environment."
In two days, over 250 people had signed the Army's petition by tracing the outline of their hand and signing the center.
On the final day, organizers approached Hernandez about returning in December, offering a bigger booth space at a discounted rate. Hernandez said The Salvation Army will return, and she hopes to have more volunteers, more visibility, two prayer booths, and more chocolate.