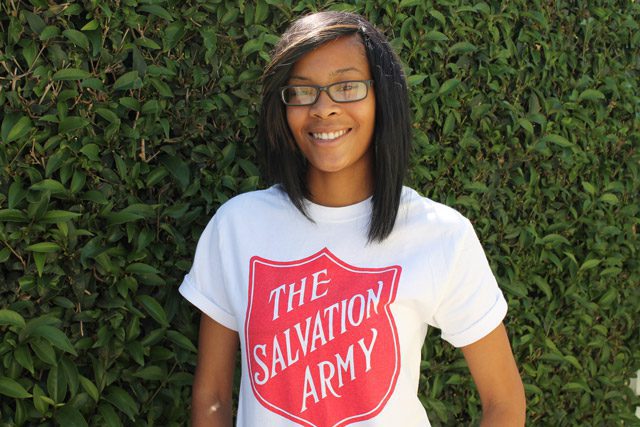 VOLUNTEER SPOTLIGHT: Meet Dareka McGhee
Inglewood Citadel Corps volunteer
By Jackeline Luna –
In a foreign country without any knowledge of the native language, Dareka McGhee learned to replace words with a smile, a lesson she learned from the locals.
Equipped with a grin stretching ear to ear, she bonded with the children of the local Salvation Army center.
In December, McGhee, 20, was selected to go on the SoCal Youth Mission Trip to the Philippines along with eight others. When she received the news, she was given special instructions; she had to keep it a secret until her corps officers at the Inglewood Salvation Army were notified.
"It was killing me," McGhee said. "It was just eating me up inside."
The SoCal Youth Mission spent their 10 days abroad ministering to the women, children and youth of the Iloilo province La Paz Corps. They did community visits, read Bible verses, prayed with families and held Sunday worship. McGhee said she sees herself returning to the Philippines in the future.
"I really want to go back," McGhee said. "The trip brought me closer to God. It made me feel more appreciative because not everyone has what we have."
Back home, McGhee is anything but your average 20-year-old. She takes classes at El Camino College in Torrance, Calif., where she studies business management. She also works two part-time jobs, all while finding time to volunteer at The Salvation Army and do something she has enjoyed since she was a child.
"I've been doing hair since I was 7 years old," said McGhee, whose clients include family members, volunteers, neighbors and members of her church. "I like making people feel good."
McGhee first came to The Salvation Army through her grandmother's journey to sobriety. Her grandmother started inviting the whole family to church and from then on, they all attended. McGhee holds a certain admiration for her grandmother.
"I look up to her," McGhee said. "She's such a spiritual woman. She loves God and puts him first. She inspires me a lot."
For the past four years, McGhee's been a familiar face at The Salvation Army Inglewood Citadel Corps. Over the past 12 months, she's gained even more involvement.
McGhee participated in the corps' first ever day camp last year. She enjoys working with children and helping out wherever she can. McGhee carries out a number of tasks, from preparing lunches to driving around with her grandmother collecting food that will be handed out to the community.
"I have a passion for helping people," she said. "The idea of helping families in need is super exciting."
McGhee has carefully mapped out her life. After finishing school, she hopes to form her own corps ministry and open a daycare for 2-5-year-old children. In the meantime, she hopes to attend Boundless 2015 in London, England this summer.
"It's important to go on these trips," she said, "to share what God is doing in my life and to learn and experience how God is working in a different country."