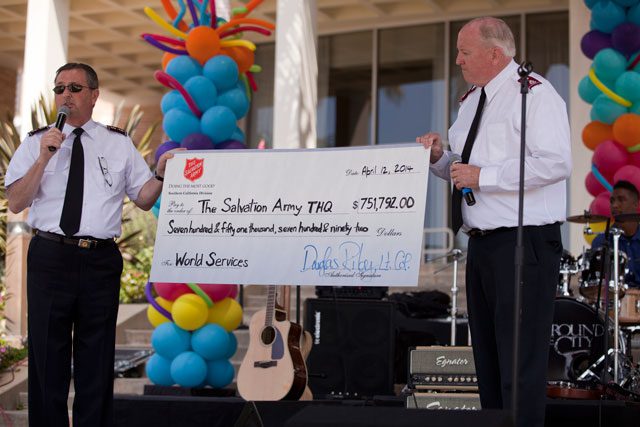 Southern California comes together for fun
By Lisa Smith, Major – 
Over 950 Southern California Salvationists gathered at the College for Officers Training recently for So Cal Celebration—a fun-filled conglomeration of the Divisional World Services Ingathering, an international food and craft fair, and a variety of youth, music and sports activities.
The ingathering featured a time of praise led by divisional praise team, Surround the City, and a report on Divisional Commander Lt. Colonel Douglas Riley's recent trip to the Philippines, which is Southern California Division's "Partner in Mission." Riley described the sacrifice and dedication of the Philippine officers and soldiers, who in one corps stand the entire way through the holiness meeting so that the congregation could fit in the small room that is their sanctuary. He reminded everyone of the privilege we have to share with the world from the abundance we have. He then presented a check for $751,792 to Territorial Commander Commissioner James Knaggs, who received it gratefully with words of encouragement to each Salvationist who helped raise the needed funds.
The Bible Bowl Divisional Final featured teams from Crestmont and Pasadena Tabernacle. Competition was fierce as both teams had worked tirelessly memorizing the content of Romans and James.  With only a 10 point difference, Pasadena Tabernacle clinched the victory and will go on to the Territorial Bible Bowl finals at Commissioning.
"From the lips of children and infants you have ordained praise…" (Ps. 8:2), and that's exactly what happened at the day's youth activities. The division's youth department gathered junior soldiers and future junior soldiers for an energetic rally that included songs of praise, games, a devotional and encouraging words from Commissioner Carolyn Knaggs, territorial president of women's ministries. In addition, 240 young people representing 12 corps presented brass, drama, dance and vocal solos and group items during the Encore! events. Winners from each category and age group will also go on to the Territorial Encore! events at Commissioning.
Lunchtime provided the crowd an array of choices for purchase: Korean Barbecue, Brazilian Empanadas, Pupusas, Chinese Chow Mein, Carne Asada Tacos, Cuban coffee, turkey burgers, gourmet cupcakes, deep fried Twinkies and more, all prepared by the division's culturally diverse corps who manned food booths with proceeds going to world services—over $5,000 in total. During lunch musicians and dancers of all ages from local corps provided worship offerings in English and Spanish while children bounced happily on nearby inflatables. The Divisional Gospel Choir made its debut under the leadership of Isaac Henry-John and James Allen.
Afternoon sports tournaments included soccer, won by the Redondo Beach Corps, and basketball, won by the South Los Angeles Siemon Youth and Community Center.
"We have such a wonderfully diverse division, with such amazing talent, it's important for us to come together as one big family from time to time just to celebrate together what God is doing in our midst through the ministry of the Army," said Lt. Colonel Colleen Riley, divisional director of women's ministries. "It's like a big family reunion! And with the world services emphasis, it's been an added reminder to us all to share God's heart for the world he loves by sharing our blessings with the world."