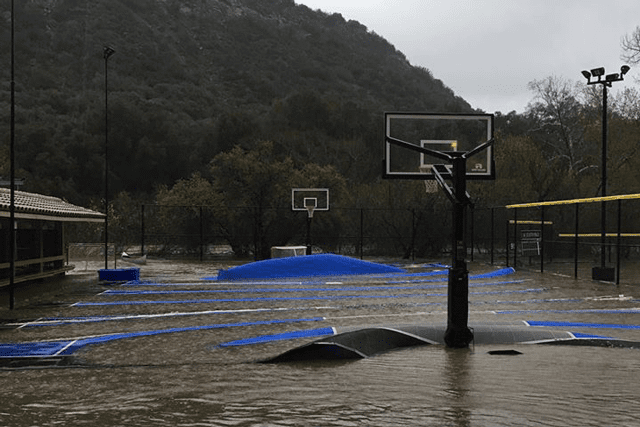 SoCal camp floods
Camp Mt. Crags, Gilmore and Wilderness suffered an estimated $150,000 worth of damage after Feb. 17 rainstorm.

Torrential rains and flash flooding swept through Southern California Feb. 17, wreaking havoc at The Salvation Army Mt. Crags and Gilmore Summer Camp and Conference Center, forcing emergency evacuations of staff and visitors, and leaving an estimated $150,000 worth of damage to clean up.
Still, says Camp Director Marty Brown, it could have been much worse.
Brown watched as the waters began to rise in the creek that runs by the entrance of the camp, which last year hosted almost 2,000 kids as part of its weekly summer programming for underprivileged youth.
By 4 p.m. Feb. 17, Brown and his coworkers knew that "this thing is going to get bad real quick." During the next hour, he said, "I've never seen water rise that quick that fast. Probably three- to four-feet high by 100-feet wide in an hour time frame."
Staff mobilized to move as many valuables as possible to the upper floors of buildings. When the safety risk became too great, Brown instructed his staff to vacate the property. Brown himself didn't get off the grounds until about 10 p.m., watching in shock as parts of the camp's basketball court, chairs, even the camp canoe, began their journey out to sea courtesy of the camp's proximity to Malibu Creek. "It came up so quick, so fast, two members of that group couldn't get their cars out. I was worried that one would get swept away," he said. Fortunately, the vehicles stayed put.
Four buildings on the premises bore substantial water damage, with the facility's dining hall taking the worst of it. Food storage areas saw two-feet of water that caused extensive drywall damage and will necessitate new flooring. Half a foot of water inundated the camp offices and the camp store was completely destroyed.
The camp's fire pit was covered with up to eight-feet of water, and the camp pool—a favorite feature of the kids who get transported to Malibu from all over Greater Los Angeles every year—is now a mountain of mud.
Still, even as staff returned to survey this radically altered terrain, Brown said they're fortunate. "For as bad as the picture is and as bad as it was, we're lucky," he said. "When we evacuated, everyone was thinking we'll be out for months…But this is not going to take us out of normal operation."
Donate today
to help the camp get cleaned up.