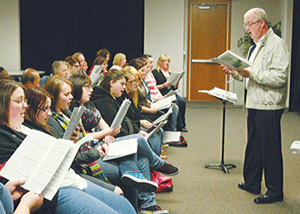 Singing for joy in Del Oro Division
Annual music event focuses on leadership training.
"Sing for Joy" was the theme of the 2011 Del Oro Music Councils, which emphasized leadership training.
The daylong event, held at Del Oro Divisional Headquarters, featured special guests Bandmaster Neil Smith, territorial music and worship development secretary, and Bandmaster Elizabeth Carvill, Golden State divisional music director. They joined Del Oro Divisional Music Director Derek Helms.
The morning included leadership training classes for songsters, band, praise and worship, beginning and junior band and singing company. Filling out the schedule were classes on the worship software, MediaShout, and how to run your corps' sound system.
In the afternoon, delegates joined the Del Oro Divisional Youth Chorus and Band, the duty groups for the day, in either a vocal or brass workshop. This allowed those who participated in the morning leadership training classes a chance to practice leading in front of a large group. They were also recorded so they can learn from the experience.
"With no public performance, this was a new way for us to hold music councils. I am really encouraged to see this many people who are passionate and motivated about music in their corps," said Helms.