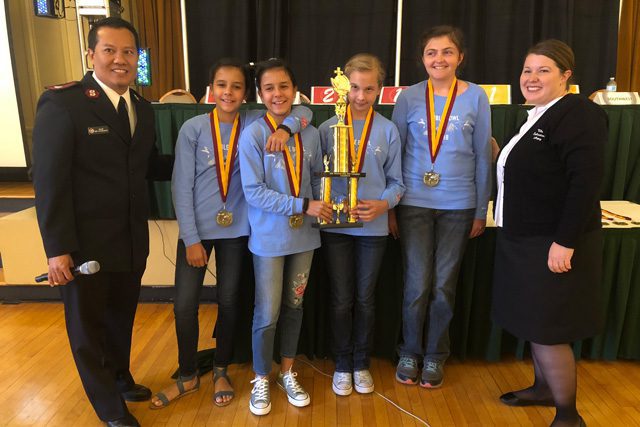 Sierra Vista Corps wins 2018 territorial Bible Bowl championship
The team won 1630-530.
By Vivian Lopez –
The Salvation Army Southwest Division, represented by the Sierra Vista Corps, faced off against the Golden State Division, made up of the Modesto Red Shield and Turlock Corps, in the territorial Bible Bowl 2018 championship final during Commissioning June 9. The Sierra Vista Corps team was victorious, winning the game 1630-530.
"It feels pretty good to win," said Natalia Souza, 13, Sierra Vista team captain. "I was really proud of everybody. We struggled at the beginning when we were studying with each other, but we came together and we were able to get all our questions down."
The Sierra Vista Corps team consisted of Natalia Souza, 13, Camila Souza, 13, Addilynn Thomasson, 13, and Gwendolyn Urquhart, 13.
"We studied once a week together, and then as it got closer we came together and studied twice a week," Natalia Souza said.
Captain Gildete Souza, Sierra Vista team coach, said she was so proud of her team and their win.
"It's awesome because some of them were not so confident at the beginning," Souza said. "I know this win will build up their confidence and desire to continue to do it. I always told them, it's not about only winning…but it was about learning God's word."
Cristal Garcia, 17, Anna Zamora, 17, Elias Markham, 16, Lillian Escobar, 16, Bramwell Markham, 13, Ivan Sanchez, 14, and Abel Sanchez, 18, made up the Golden State team.
The territorial Bible Bowl competition is a culmination of a year of preparation for the 10 teams, as they spent time in Bible study and Scripture memorization. Each team of members ages 12–18, earned its spot after winning championships in their respective divisions.
"The overall purpose of the Bible Bowl program is to really excite kids, and give them an additional challenge to studying the Bible," said Heather St.-Aimé, territorial Youth Department Event Coordinator and Project Manager. "It's giving them an additional incentive to strive for excellence in Scripture memorization and biblical knowledge."
The Bible Bowl consists of toss-up questions. The first team to buzz in gets to answer. If the team's guess is wrong, the opposing team has a chance to answer. If they answer correctly, the team has a chance to answer a 40-point bonus question.
At the beginning of the year, the teams are informed of the book or multiple shorter books of the Bible their competition questions are based on. This year, the program focused on 1 Corinthians and 2 Corinthians. Resources and a full list of possible questions are available online for the teams to study.
"Initially, they start by studying the book or books assigned for the year," St. Aimé said. "They will then dig in to the exact specifics of the questions, and they'll have to recall all of that information from their Bible study by memorization."
The questions range in difficulty, from basic trivia questions to harder questions in which competitors will have to recall from Scripture who said it, to whom, and what was the response verbatim.
"These questions pull out more of an understanding from their studies," St. Aimé said.
Created in the 1970s, the Bible Bowl program served as a means to enhance the Corps Cadet program. It then branched out to include all kids in the corps who wanted to compete.
St-Aimé attributes the program's long-standing success to the life skills the young participants get out of it.
"We do see a lot of kids who come in and they have a pretty solid understanding of the Bible, but having this additional challenge really pushes them and challenges not just their biblical knowledge, but also their leadership skills," St.-Aimé said. "There's a lot of other things that kind of branch of from that like conflict resolution. We also see a lot of growth in interpersonal skills and teamwork."
Souza said her daughters, Natalia and Camila, have gotten a lot out of their Bible Bowl experience.
"I believe they have grown in learning more of the word of God, and being more confident on what they can do," she said.
St.-Aimé said the program also encourages small group fellowship, as teams only consist of four to seven players.
"It becomes really tight knit," St.-Aimé said. "They kind of build this camaraderie around a common interest. It takes a unique person to compete for a full year and dedicate the time, so they really do build a lot of community in addition to the challenge of memorizing the Bible."
Ultimately, St.-Aimé hopes this will better the participants' understanding of who God is, and who he is in their lives.
"I hope they get encouraged to study and learn the Bible, and to really learn it to a point where they can recall it whenever they do face trials," she said. "They also get to learn good content that they will hopefully carry with them for the rest of their lives."