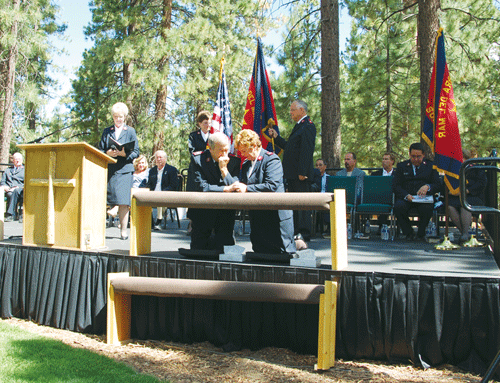 Sierra del Mar welcomes new opportunities, new leaders
Division dedicates Pine Summit Camp and installs divisional leaders. 
By Suzi Woodruff Lacey
Behold the former things have come to pass. Now I declare new things. Before they spring forth, I proclaim them to you" (Isaiah 40:9 NAS).
The Salvation Army's newest camp, Pine Summit, in Big Bear Lake, Calif., Sierra del Mar Division, received its official dedication on Sept. 3, before 750 people from across the division and beyond.
Divisional Commander Major Lee Lescano spoke on celebrating the new—new leaders, the new camp and all the new opportunities Pine Summit will bring to the entire Western Territory.
Referring to the imagery of Isaiah 40.9, Lescano said, "God brings newness and freshness and beauty when there was nothing there…we see lives without hope…and our job, from the Lord, is to bring transformation, to bring a new, fresh start to those lives."
Colonels David and Sharron Hudson, territorial chief secretary and secretary for women's ministries, installed Majors Lee and Michele Lescano as the new leaders of the Sierra del Mar Division, which encompasses Imperial, Riverside, San Bernardino and San Diego counties. Major Stephen Ball from San Bernardino welcomed them on behalf of the officers; Renee Howard from El Cajon represented soldiers; Cesar Segura from Riverside represented youth and Evelyn Vasquez from Ontario represented junior soldiers.
Dave Patton gave a brief history of Wildwood Ranch, the division's previous camp, and Captain Erin Kauffman related the history of Pine Summit. Hudson spoke the official words of dedication and presented the Pine Summit flag to Captains Dave and Erin Kauffman, corps officers of the camp.
Framed by two giant pine trees, Segura and Vasquez performed the ribbon cutting, surrounded by the mayor and other officials of Big Bear Lake, along with the Hudsons, Lescanos, Captains Osei and Lynn Stewart and Captains Ken and Jennifer Perine. Michele Lescano gave the prayer of dedication and Sharron Hudson the closing prayer.
"All the music for this dedication was spectacular," said Soldier Amy Ball. The divisional band, with hula and timbrels, presented the prelude; Osei Stewart led the guests in "O God of Love Eternal" and the Divisional Youth Chorus performed. The Ontario Corps provided praise and worship music. Jennifer Perine led the singing of "Thy Presence" and the divisional band played the postlude.
After lunch, Family Fun Day began, with activities ranging from soccer to the zip line, the ropes course to paintball. Many families visited the snack bar, not only for the food, but to purchase Pine Summit tee shirts and the camp's mascot, "Little Bear."