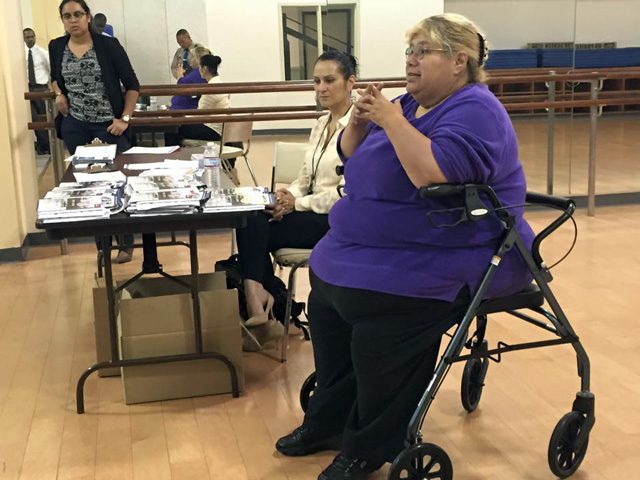 Siemon Center helps immigrants secure driver's licenses
Free workshop educates 30 people on application process
By Lizeth Beltran – 
With the signage of AB60, Californians like Mary Flores, as we'll call her, came one step closer to gaining tangible independence.
Signed in 2013 by Gov. Jerry Brown, AB60 took effect Jan. 1 requiring the DMV in California to issue a driver's license to applicants regardless of immigration status.
A 45-year-old mother of two from Guanajuato, Mexico, Flores has lived undocumented in the U.S. for the past 12 years.
"My husband passed away last December from a heart attack," Flores said. "Anytime I wanted to go anywhere, my husband would take me. My life went upside down when he passed away, and even though I have family members who help me out, getting a driver's license is like a new beginning for me."
To aid in the application process, The Salvation Army Siemon Youth and Community Center in Los Angeles, held its first AB60 driver's license implementation workshop this month.
The center partnered with the DMV and Assemblymember Reggie Jones-Sawyer of the 59th district to prepare community members like Flores looking to obtain driver's licenses through the new bill. Thirty participants had one-on-one access to law enforcement officers who answered questions and offered pamphlets on AB60.
Mortimer Jones, executive director at the Siemon Youth and Community Center, said many in his community live in fear of deportation and worry about confidentiality.
"It was about getting people the information," Jones said. "Something that might look simple to some might not be that simple to others. We wanted to make information available to them in a comfortable environment. It was great to have people like the DMV, the highway patrol and members of the assemblyman's office give demonstrations."
Jones noted that people are undocumented for various reasons and the center's staff is sensitive to that. It promoted the event with the assemblyman's office through fliers, distributing them through the center's programs and local schools.
"If the average person has three people in their family, than this does not just impact those who attended," Jones said. "It trickles down to every member of their entire family."
The move could also be safer for all California residents. According to the AAA Foundation for Traffic Safety, unlicensed drivers are five times more likely to cause a fatal accident, five times more likely to drive drunk and nearly 10 times more likely to flee the scene of an accident.
Flores said the prospects of getting a driver's license would impact her life "tremendously."
"I learned a lot about the AB60 through the workshop," she said. "I had no idea about the process of applying for a driver's license. I didn't know I could make an appointment or that I could take the written exam three times before having to pay the application fee again."
Flores wakes at 5 a.m. each day to get her kids to school on time and then arrive at work, all through public transportation. "One of the nice things about having a license will be that I can take my kids to the park and run errands more comfortably," she said.
While the turnout was modest, Jones considered helping center regulars like Flores a triumph.
"I do believe that there are others in close proximity who would be interested in the information," he said. "It's all about having the trust of the community."