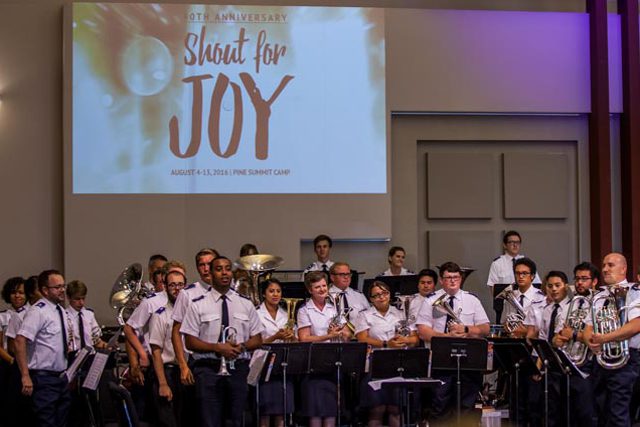 'SHOUT FOR JOY!': WMI 2016
Western Music Institute celebrates its 40th year.
Celebrating its 40th year in 2016, The Salvation Army Western Music Institute (WMI) took place at Pine Summit Camp in Big Bear, Calif., where over 200 students and staff members gathered from every division in the territory for a week of music and other creative arts.
Main learning tracks included band, girls' vocal, praise and worship, dance and drama. Special guests were Bandmaster Ken Waterworth of the Melbourne Staff Band and members of the Christian Dance Company from Wisconsin.
"Using Psalm 100 as our guide, each delegate learned how to use their skills to worship God through music and arts," said Neil Smith, territorial music secretary. Enhancing this were daily chapels, cabin devotions and sealed orders that encouraged delegates to spend 20 minutes each day alone with God in prayer.
Delegates responded positively to WMI's spiritual focus.
"God has opened my eyes to many defining moments that have directly influenced my path with him," said delegate Rachel Ann Bach from the Roseville (Calif.) Corps. "Whether it was by the pieces we played, listening to faculty testimonies, and even reading our sealed orders God never fails to speak to me through WMI."
Smith said that to strengthen the fundamentals of playing and singing, the three bands and four choruses met simultaneously. "We believe that this prevents students from getting lost in the crowd and will refine skills that the young people can take back to their corps," Smith said.
The WMI experience includes exposing delegates to professional music and arts groups. Boston Brass performed for the group this year, as did contemporary Christian music artist Aaron Shust.
To recognize WMI's 40 years of ministry, distinguished WMI alumni joined delegates and staff for a pre-concert lunch and time of fellowship prior to the final festival at the Tustin Ranch Corps. Major Beryl Camsey attended–she and Major Terry Camsey were responsible for the first WMI in 1976.
Also present were Ivor and Janette Bosanko who led WMI for over 25 years. The alumni group sang with the current student and staff group for Ivor Bosanko's song, "The Day of Victory."
The final concert opened with "Shout for Joy!"–written by James Anderson, a former Western territorial music secretary. The bands contributed, "Quintessence," "Majesty" and "Hanover Variations" to the concert, while the two worship teams led times of praise and worship. The dancers, encouraged by the professional skills of the Christian Dance Company, produced worship art at the highest level. The choruses participated in the daily chapels as well as the mid-week and final concerts, and through some intense vocal coaching, students learned to understand their voices and how to protect them.
Voices and brass joined in the finale as everyone present sang "I love you Lord" and "Lord, you know that we love you."
"WMI 2016 was the best year yet," said delegate Bethany Sheppard from the Tacoma (Wash.) Corps. "God blessed me by casting off so many worries that week so I really felt free to praise him through the talents that he has given me and make many more friends in The Salvation Army. It just really solidified to me that the The Salvation Army Western Territory is home!"
View the WMI final festival online at youtube.com/tsawestvideo.
WMI Awards 2016
Stillwell Award
1st place – Tyler Griffin, Denver Citadel
2nd place – Joshua Stewart, San Diego Citadel
3rd  place – Angelina Velasquez, Sacramento Citadel
Watt Scholarship
Kyle Santiago – Reno Corps
WMI Band Pins
Cornet – Joshua Stewart – San Diego Citadel
Cornet – Tim Mylechreest – Hendon Corps
Trombone – Kyle Santiago – Reno Corps
Eric Sholin Tuba Pin – Bradley Stires – Pasadena Tabernacle
Percussion – Tyler Griffin – Denver Citadel
Percussion – Claire Norton – Pasadena Tabernacle
WMI Chorus Pins
Soprano – Amber Kauffman – Sacramento Citadel
Alto – Judy Park – Anchorage Korean Corps
Tenor – Landon Smith – Torrance Corps
Bass – Dominique Smith – Sitka Corps
WMI Creative Arts Pins
Dance – Hannah Bridgeo – Caldwell Corps
Drama – Bethany Sheppard – Tacoma Corps
WMI – Praise & Worship Pins
Micaiah Lum –  Hawaii Kroc Center
Jennifer Sanchez – Santa Clara Corps
Issac Jones – Big Bear Outpost
Shante Wong – San Francisco, North of Market Corps