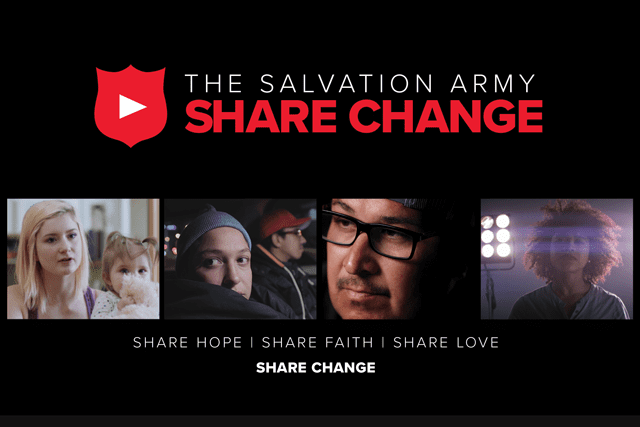 'Share Change'
By sharing a video story of a life changed, that transformation can impact others.
By Josh Cowing and Martin Hunt –
Social media puts all of recorded history at our fingertips, but also the ability to access all of the things that our friends and family are doing, thinking and sharing, nearly in real time. If you look through your Facebook newsfeed right now, you will no doubt find information about what the people in your life are up to, how their kids are growing and changing, where (and even what!) people are eating, political discourse, promises of prayer, celebrations, fears and so on. This type of interaction has created a global community across time and space, allowing us to connect with each other in new ways.
So what then is our role to be, particularly as Christians and Salvationists, in this new public space? How can we use the megaphone handed to each of us to help continue to fulfill the Great Commission as Jesus commanded? One way is to consider social media spaces such as Facebook, Instagram and Twitter as the modern-day street corner. Let's fill those public spaces with messages of hope, inspiration, and transformation that can only be brought about through a relationship with Jesus Christ.
The USA Western Territory has for several years been producing high-quality evangelistic videos that are intended for use in exactly this capacity. There are videos about faith, recovery, family issues, Christian education, worship and some that are just funny. We in the West's Department of Multimedia Ministries want to challenge each and every Salvationist on social media to use these videos to engage your friends in conversation about their faith. Maybe you know someone who is struggling with recovery issues, and you can share one of the recovery testimonies with that person. Maybe you know someone who questions who God is, and you can share one of the "Illuminate" series of videos with him or her. Maybe you know someone who is unsure what The Salvation Army is all about, and you can share a video testimony with that person that explains one of our varied ministry opportunities. This is a simple way to communicate the power of Jesus with our online communities. Just imagine the impact for the kingdom.
All of these videos can be found for viewing, sharing, and download—for free—at sharechange.salvationarmy.org. To encourage further use of this resource, beginning on Oct. 2, The Salvation Army Western Territory is challenging every Salvationist to "Share Change."
It's simple to start. Just take the first step of "liking" a Share Change video, either on Facebook or YouTube. That will let us know that the story is meaningful to you.
Then comment on what you see. In the comments section, post your favorite Scripture verse, tell us your reaction, or share how that video has impacted your life.
Next, share it with your friends. Visit sharechange.salvationarmy.org, select a video you would like your friends to see, and then share it via email and social media. These are stories of changed lives, and you never know how one person's transformation can impact others. Ask people what they think, and ask them to share the videos with their friends. The results could be exponential. You share, your friends share, and before long, your single post is being shared by thousands of people.
Finally, think of a particular friend who would be encouraged or inspired by that story and send it directly to them. We've had incredible reports of how a particular story meant something special to individuals at a certain moment in time. God could be preparing someone's heart to hear this message right now, and you could be the connection that shares that change.
Like.
Comment.
Share.
Send.
It's a powerful way to share the gospel, and to share the incredible work The Salvation Army is doing in people's lives.
Remember, this is a social media generation. You have social media followers, and your followers have followers who may never enter the door of a church or Salvation Army facility. Yet through social media, we can get the message of God's love directly to them. So be an agent of change in someone's life and share the change you have already experienced. Share Change.
Visit sharechange.salvationarmy.org today and be a part of sharing change.