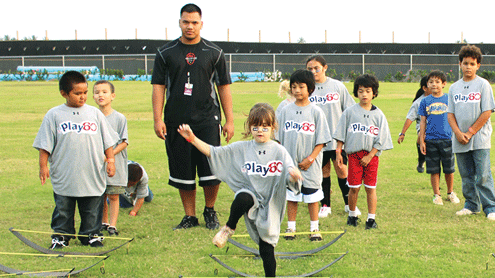 Set…hut!
Kroc kids mentored by NFL players in NFL Play 60.
By Daniel de Castro
At the Ray and Joan Kroc Corps Community Center in Kapolei, Hawaii, more than 100 children from kindergarten through eighth grade recently tried NFL-inspired exercises.
Key Pro Bowl organizers in Hawaii brought NFL Play 60—a national youth health and fitness campaign focusing on increasing the wellness of young fans by encouraging them to be active for at least 60 minutes a day to the center. The program is designed to reverse the trend of childhood obesity by teaching kids to remain active regardless of the sport.
"Good nutrition, health and exercise are some of the values we promote daily at the Kroc Center," said Major Phil Lum, corps officer at the Kroc Center. "We hope to continue similar programs like this in the future."
Prior to playing out on the field, the kids heard a pep talk by former NFL players recently inducted into Hawaii's NFL Legends, including Arnold Morgado (Kansas City Chiefs), Jim Nicholson (Kansas City Chiefs and San Francisco 49ers), Blane Gaison (Atlanta Falcons) and Leo Goeas (San Diego Chargers, Los Angeles Rams, St. Louis Rams, Baltimore Ravens). Dr. Edison Miyawaki, part owner of the Cincinnati Bengals, coordinated their participation.
The kids then went through a series of activity stations and obstacle courses with jumping rope exercises, running back cone course, football relay race, ladder drills and push-ups.
"We heard so many positive comments from the parents and kids because it promoted a practical message in such a fun and exciting way," Lum said.  "A big thanks to the NFL for helping to make this happen."