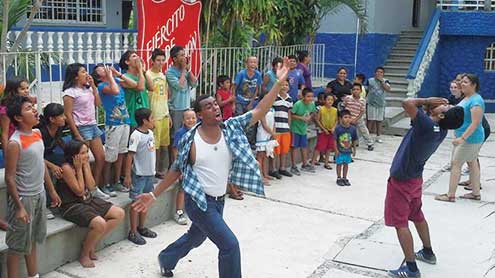 Service Corps members embark on worldwide missions
Teams served in Kenya, Chile, Poland, Mexico and the U.S.
By Megan McQuade
This summer, 28 Salvation Army Service Corps members from around the Western Territory traveled to ministry locations in Kenya, Chile, Hawaii, San Francisco, Poland and Mexico.
Administered by the Territorial Youth Department, Service Corps is a short-term summer missions program for young adults ages 18-25. Successful program applicants are placed on teams that join Salvation Army ministry in select locations. Teams participate in leading youth vacation Bible school, teaching music lessons and assisting with teen ministry.
Team Kenya led youth rallies, performed songs at the corps, and preached at youth crusades with as many as 500 in attendance.
"We [did] great things in the name of God," said Rachel Bach of Team Kenya. "The youth groups and many people in this territory display an amazing amount of God's love, and I believe that we have been blessed by all of the wonderful people we encountered."
Team Chile heard first-hand from hosts Carlos and Clauris Morales about the 7.7-magnitude earthquake that destroyed much of the city of Tocopilla, where the team stayed. The local newspaper also featured the team and its missionary work.
"Aside from all the destruction, the people of Tocopilla still work to find the beauty in their town," said Team Chile member Kayla Covert. "We most definitely see the beauty God has blessed them with."
In the U.S., teams ministered in Hawaii and San Francisco. In San Francisco, the team distributed healthy snacks to the Bayview community; in Hawaii, they helped at Camp Homelani and played dodgeball, "carpetball," and volleyball with the kids.
Team Poland made friends with children in Warsaw, teaching Bible lessons and playing soccer with them. They also introduced "hula" as a form of worship.
"The kids in Warsaw are so loving, and they really grew on us because each kid had something different about them," said Team Poland's Jasmine Moody. "I can't wait…to get one more giant, loving hug from a changed child of God."
Team Mexico helped at the Xochitepec Corps, visiting the homes of the poor and praying with them. They attended youth councils, and celebrated the Fourth of July with their hosts.
"Our mission is to help others in Mexico City grow closer as a family to find the love of God," said Joshua Stewart of Team Mexico.
See Instagram photos of the teams
via #servicecorps2013.