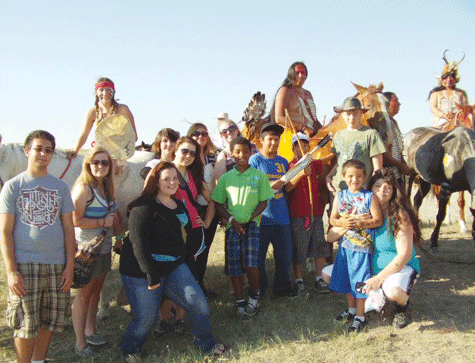 Service Corps 2012 reflects on mission
Teams return from summer of service.
 By Megan McQuade
In 2012, the Western Territory's Service Corps teams traveled to Costa Rica, Germany, Fiji and Montana/Hawaii for a busy time of serving God through serving others and sharing Jesus' love.
Team Costa Rica got off to a rough start when their flight was delayed for a day and their living quarters were broken into after their arrival. Fortunately, the incident occurred while they were serving at the San Jose Central Corps, and few items were stolen.
"Although we got robbed, our spirit is still alive," said team member Blake Wilson. "1 Peter 4:13 says, Rejoice that you participate in the sufferings of Christ, so that you may be overjoyed when his glory is revealed."
After recounting a week of prison visitations, leading youth programs, and time spent with the women of the home league at Fiji's Nasinu Corps, team member Marvin Tabios wrote, "We're having a truly amazing time here. It's a great blessing to be able to serve God and have fun."
The U.S. team split their service, traveling first to Billings, Mont., and then to Oahu and the Big Island, Hawaii. In Billings, they assisted with the corps' Billy Booth School of Music Ministry, and helped provide food and water to local firefighters during the wildfires in early July. In Hawaii, they worked at SAY Camp at Camp Homelani, and assisted at the Kauluwela and Kona corps.
"God has been reminding me of what I've read in John 15 concerning Jesus being the vine, and us the branches," said U.S. team leader Stephen Hartt. "This inspired me to keep my team united in prayer and in devotion, for if we are not abiding in him, we as believers are dying. Praise God…for what he has been doing not only through my team abiding in him, but also through all the other Service Corps teams this summer that are also abiding in him."
As team Germany's summer drew to a close, Audriana Moody shared a prayer of thanks: "I have been given opportunities to fulfill things within the [Bremen] Corps that I normally would not be able to do back home. …Never would I have imagined to be here in Germany doing missionary work…but I am so glad you called me to it. My hosts in Bremen are passionate for you, and it is a beautiful thing! I am so happy we were chosen to come here and assist them in their growing ministry."
During the summer ministry, team members grew closer to one another, closer to new friends, and most of all, closer to the Lord. Many also blogged about the experience; to read more of their testimonies and stories, visit saynetwork.com/servicecorps.