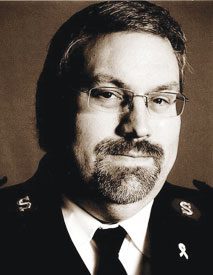 Sermon podcast attracts hundreds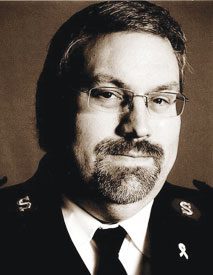 Envoy Roger McCort utilizes social media to expand his congregation.
Envoy Roger McCort is spreading his sermons to 300 listeners each week beyond those who attend the service at The Salvation Army's Harbor Light Center in San Francisco.
"Several years ago I began occasionally recording my sermons," McCort said. "Mostly for my own use, but partly because I had a number of soldiers who were homebound and asked if copies of the messages could be passed on to them. I also tend to preach in series and some regular attendees liked to have the opportunity to hear what they might have missed if they didn't make it."
Initially, McCort said, the response to his postings were meager at best, but he kept at it.
He faithfully posted week after week despite little interest seen from the online community. McCort began posting links to the sermons on Facebook and Twitter to help spread his message.
"For some time the number of downloads each week hovered at about eight to 10," McCort said. "After about a year, I moved to a paid podcast host as I saw the number of downloads growing toward 50 a week."
Now, more than two years later, McCort's sermons are pulling in over 300 listeners each week. In the past month, the site received more than 1,000 unique visitors.
"Ideally, every pastor and officer would make all of their messages available online," McCort said. "Not only would that benefit people from their home congregations, but it could reach someone they'll never meet with the message that God loves them."
Listen to McCort's sermons at rmccort.podbean.com