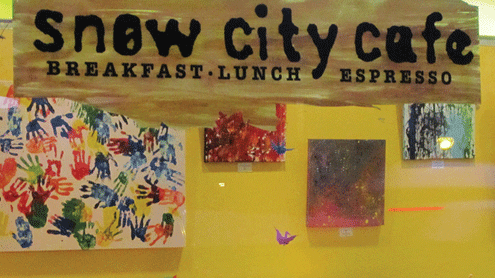 Serendipitous art
Artwork created by Serendipity Adult Day Services participants featured at show
Art by participants at The Salvation Army's Serendipity Adult Day Services program in Anchorage, Alaska, decorated the walls of Snow City Cafe during a First Friday exhibit Sept. 2. Each work of art—created by someone with Alzheimer's disease or a related disorder—reflected the artist's unique interpretation.
Scheduled in conjunction with National Adult Services Week, Sept. 18-24, the event served to raise awareness of the availability and accessibility of adult day programs.
The Serendipity program provides quality adult day services for older individuals with special needs such as Alzheimer's disease, along with support for their families and caregivers. It offers a variety of services and experiences to engage participants in self-expression, including art, music and intellectual discussions. Since opening in 1985, the Serendipity Adult Day Center has evolved from a senior drop-in center into a comprehensive program designed to meet an individual's cognitive and physical needs in a group setting.
"The significance of The Salvation Army Serendipity art program is how it can help facilitate the creative expression of individuals who may have lost the ability to tell others how they feel," said Jesalyn Stanton, director of the program.
Adult Day Services offers a means for people with a cognitive disability to remain in their community of choice, access a social network of their peers, participate in individually planned services, and engage in activities directed toward stabilization or improvement of skills. These programs also provide a respite period for family caregivers, enabling them to continue their care giving responsibilities more effectively.
For more information about The Salvation Army Serendipity Adult Day Services, visit salvationarmy.org/serendipity or call (907) 279-0501.