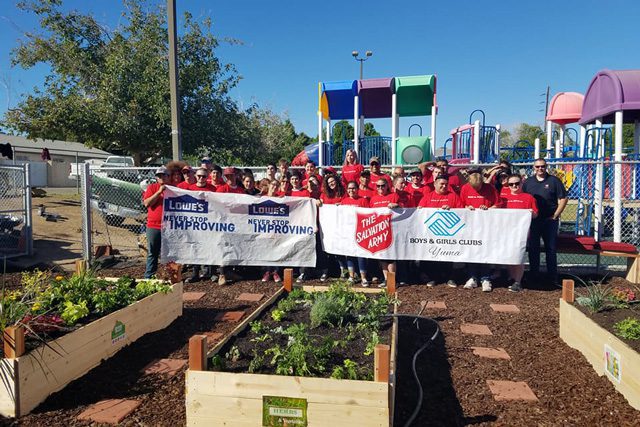 'Sensory garden' teaches kids about agriculture
Nurturing roots in Yuma, Arizona
By Vivian Lopez –
In Yuma, Arizona, fruits and vegetables are more than just produce—they're a key to the city's culture.
Recognizing this, The Salvation Army Boys and Girls Club of Yuma partnered with Lowe's to launch a sensory garden program so kids could dig into their community's roots.
"We want to teach the kids at an early age about agriculture and why it's important and how it's part of the community and daily life," said Alexis Tetoste, Program Director of The Salvation Army Boys and Girls Club of Yuma.
Lowe's funded the garden and built it with three above-ground flower beds consisting of citrus trees, herbs, perennials and more. The kids maintain the garden with the help of Salvation Army staff.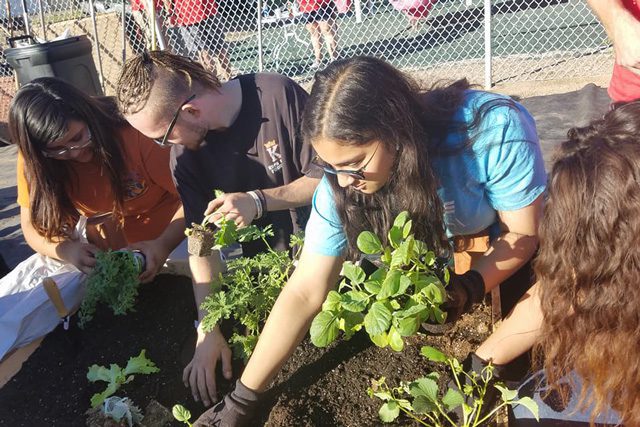 Lt. Jeffrey Breazeale, Yuma Corps Officer, said they approached Lowe's with the idea for the sensory garden, "so the kids could learn more about gardening and taking care of things starting from seedlings all the way to maturity and growth, cultivating, taking care of tools and working with their hands."
The "sensory" aspect of the garden comes into play as the children use their senses to care for the plants and learn about them.
"It's to activate the different senses in their mind, not just touch, but also smell, sight and sound," Breazeale said. "There are plants that make noises. There are other plant smells. Every plant has a different texture. You can feel it and there are plants that you can eat."
The garden is a group effort, and Tetoste said the kids are excited.
"They ask us to take turns watering the plants," he said. "They pick up the trash around it and make sure the plants are not dying."
Malorie Ramos, 11, and Isabella Meyers, 10, enjoy spending time in the sensory garden.
"[The garden] looks healthy and pretty and it also has growing vegetables that we can eat to stay healthy," Ramos said. "Little kids can help and they don't just play and lay around."
Meyers' favorite part of the garden is watering and keeping the weeds out of it.
"Keeping [them] healthy provides fresh air for our world," she said.
Tetoste said this experience has the potential to help the kids in the future as well.
"If they want to pursue a career in agriculture, this will give them the basic foundation of it, and teach them why it's important to take care of crops, soil and the environment surrounding them," he said.
Breazeale hopes that providing the kids a hands-on learning environment in the garden will give them new life skills.
"It's learning in a different way than sitting in a classroom," he said. "The end goal is to teach kids responsibility, not just for themselves, but for other things, and to respect and to take that time to appreciate things they wouldn't normally get to do."