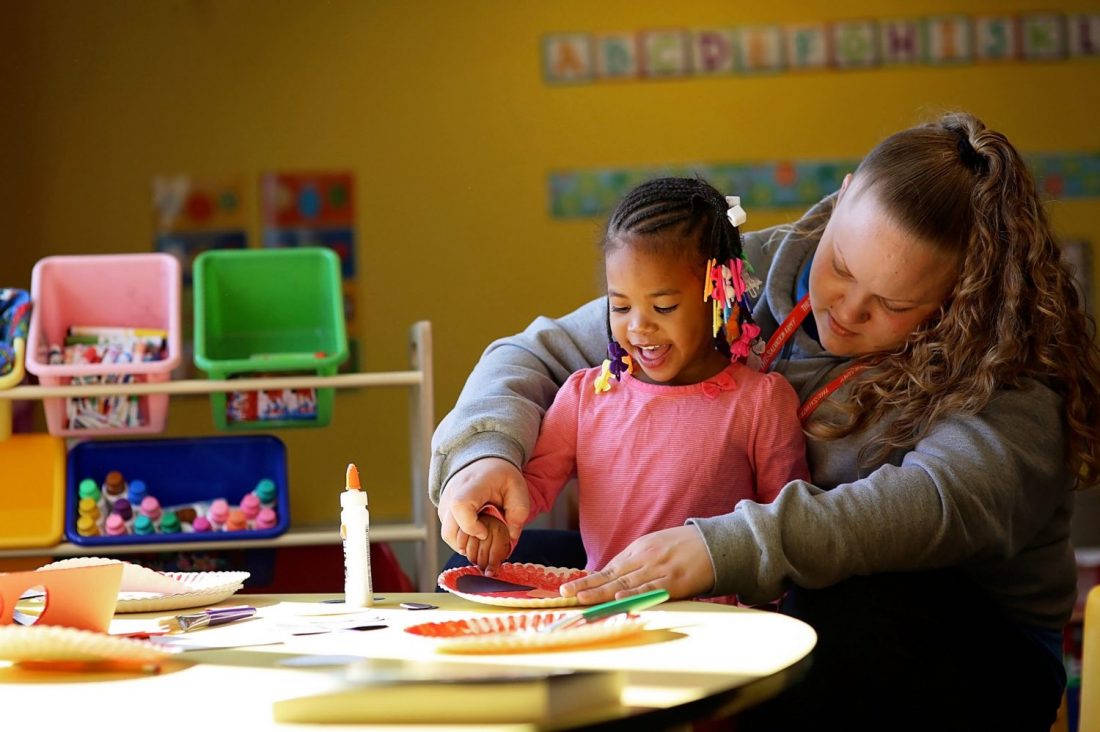 Select Salvation Army child care facilities stay open to serve 'essential personnel'
By Jared McKiernan–
Working families trying to weather rampant school closures are wearing thin on viable options as many child care facilities also shutter indefinitely.
Many employers have adopted work-from-home policies to play their part in mitigating the spread of COVID-19, but some "essential workers"—including health care professionals and emergency responders—don't have the choice to stay home with their kids. 
While some states, such as Massachusetts, have ordered closures of all child care facilities, others, including California, are leaving the decision up to providers.
The preschool at The Salvation Army's Alhambra campus in Sacramento, California, is among the child care facilities in the state keeping the lights on for the time being, despite the risks. According to Captain Emmanuel Masango, Sacramento Citadel Corps Officer, the facility has seen a 50 percent drop in attendance over the past couple weeks, but that's actually worked in its favor given the federal government's advice against gatherings of more than 10 people. 
"We have remained open in order to keep serving the families that rely on us for the care of their children while they work," he said of the Alhambra facility, which serves families who live and work in Oak Park, Downtown, South Sacramento and surrounding areas. "The reduced numbers allow us to have 10 kids or fewer in each class."
In California, pre-schools and childcare providers have been designated as "essential services." But that doesn't mean it's business as usual.
"Our teachers are taking great care to sanitize toys, chairs, tables and other items in the classrooms," Masango said. "Staff and children are washing their hands frequently. We have been keeping an eye on the situation and consulting with the state since we are a licensed program."
The Salvation Army normally operates some 80 licensed child care centers nationwide, but with the COVID-19 crisis in full effect, they're working to set up a few makeshift programs to serve essential personnel, including the one at the Phoenix South Mountain Ray and Joan Kroc Corps Community Center in Arizona, which is likewise absent directives from state officials. 
According to Captain Caroline Rowe, the center's administrator, the program has been cleared by the Department of Health and is under current licensure to offer childcare to first responders.
"We have reached out to our local hospital, and have been met favorably with our offer," Rowe said. 
The plan is to offer the service for kids ages 5 and up, and do so free of charge. The San Francisco Kroc Center, which serves the city's Tenderloin neighborhood, is eyeing a similar arrangement. 
Other facilities across the territory are doing what they can to step up for families in crisis mode. The Salvation Army Suisun City (California) Kroc Center had been running a weekly day camp at the beginning of this week, which included two meals, snacks, arts and crafts, rock climbing, swimming, movies and more. By the end of the week, it had transitioned into emergency child care for essential personnel.
"Our center has closed to the general public but we're now offering emergency child care for up to 50 kids of essential personnel in the county, with a focus on the Fairfield/Suisun area," said Major Randy Hartt, Suisun Kroc Center Administrator. "It just made sense, since we already have after-school programs and things like that going on, and the size of our facility really makes it conducive for social distancing."
Hartt noted the fluidity of the situation and the possibility for a federal agency to grow more involved in the provision of services, which could very well change everything by tomorrow. But for now, he's convinced The Salvation Army's exactly where it should be.
"I talked to several people at the Mayor's Office, I talked to the PIO for the City of Fairfield, and they were just incredibly grateful that we were even offering this service," he said. "Kids may not be going back to school at all this year, so we're constantly evaluating everything, but please keep all of the operations across the country in your prayers."
HOW TO HELP:
If you'd like to make a monetary donation, please click here to make a gift.
Text 'GIVE' to 52000 to make a $10 donation to The Salvation Army. This will automatically add a one-time donation to your next mobile phone bill.
For information about volunteering, please visit volunteer.usawest.org.
To learn more about how to support The Salvation Army's relief efforts, please click here.