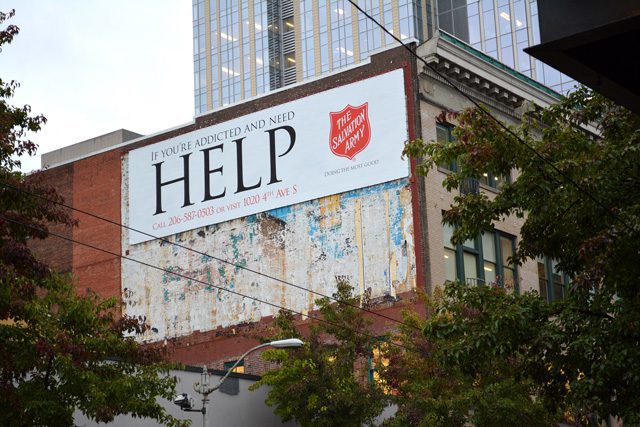 New ad campaign debuts in Seattle
Billboards, bus sides, posters and flyers spread awareness of the Army's work.
By Lora Marini Baker – 
A new ad campaign in Seattle is targeting the people who most need the help of The Salvation Army—the homeless and hopeless. A variety of outdoor media was used in this new campaign, aimed at people living on the street—including billboards, bus sides, posters, and flyers.
The campaign's concept came from Territorial Commissioner James Knaggs. More than 50 years ago, he witnessed a similar campaign organized by his parents. Commissioner Knaggs' mother ran a series of classified ads in the local newspaper, reaching out to "young girls in need of help or a friend to talk to." The ad included the Knaggs' family home telephone number.
A half century later, that "grassroots" campaign has stayed with Knaggs. Now, the target audience is people in need of shelter, safety and rehabilitation. And, the media used to reach them is more sophisticated and expensive, which has been paid for through territorial funds. Knaggs developed the campaign with The Richards Group.
Seattle was selected as the test market for this campaign for a few reasons. First, the programs are located in close proximity to one another in downtown Seattle. Men's and women's shelters, the Seattle Adult Rehabilitation Center (ARC), and a food bank, are all within a half mile of each other. Plus, Northwest Divisional Commander Major Doug Tollerud, with program administrators Captains Dana and Mary Libby from the Seattle Social Services and Captains Timothy and Judith Rockey from the ARC, were all on board with the experiment and willing to dedicate time and effort to the campaign.
The simple design and bright colors—red, white and black—caught the eyes of passersby. One billboard, located near Seattle's iconic Pike Place Market is 20 feet high and 60 feet wide. It reads, "Are you addicted and need HELP?" with the ARC address and phone number listed.
Other art guides homeless men and women to shelter at the William Booth Center and Pike Street Women's Shelter, respectively. "Are you in need of SHELTER? Do you need a place to SLEEP?" the checkerboard posters read. Contact information and maps are included to make it easy for the clients to find their way to The Salvation Army.
A highlight of the campaign is the "take-over" of the Pioneer Square bus tunnel, which hundreds of buses and thousands of people travel through each day. Thirty signs, with messages about various Salvation Army programs, dominate the bus station. An added benefit of the campaign is exposure to people who don't need help themselves, but may not be aware of the many ways the Army helps those in need.
Both Captain Dana Libby and Captain Timothy Rockey reported increased attendance at their programs just weeks into the campaign. Plus, the amount of callers requesting information increased significantly.
Libby acknowledged an unexpected benefit of the ad campaign—excitement among the staff members. All program managers, front desk receptionists, and phone operators have been briefed on the campaign and given tools for responding and referring clients to the appropriate programs. As a result, Libby has found that staff members have increased pride in their work and excitement about being a "test market" for this campaign.