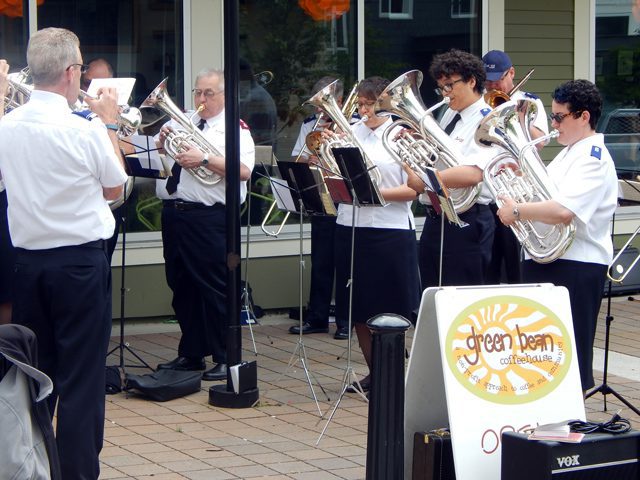 Open air returns to Seattle
Local coffee shop offers patio for outdoor meeting
Seattle Temple Corps soldiers can recall conducting open airs in the 1980s, but over time the practice lost its relevancy in the community.
Recently, however, current Corps Officers Majors Rob and Amy Reardon and Assistant Corps Officer Lt. Rebecca Lewis noticed a resurgence of people strolling the streets on weekend afternoons in the north Seattle neighborhood of Greenwood. Together with the corps council, the officers decided it was time to give the open air another try.
Located down the street from the corps is The Green Bean Coffeehouse, run by a local church. With its prime location and adjacent patio, it is a perfect spot for an open air. The corps asked to conduct the meeting on the shop's patio and management agreed.
On May 24, Green Bean employees rolled the piano onto the patio, and the songsters and the band offered several selections. Retired officer Major Barry Dooley and accepted candidate Nick Helms gave testimonies. Major Rob Reardon delivered a brief devotional.
Roughly 50 Salvationists attended the open air, and nearly 30 passersby stopped to listen.
"I know that you had this event already planned, but for me it was like a spontaneous burst of music and joy," said one listener.
Corps members are now discussing more potential open airs, perhaps beginning with a march of witness.