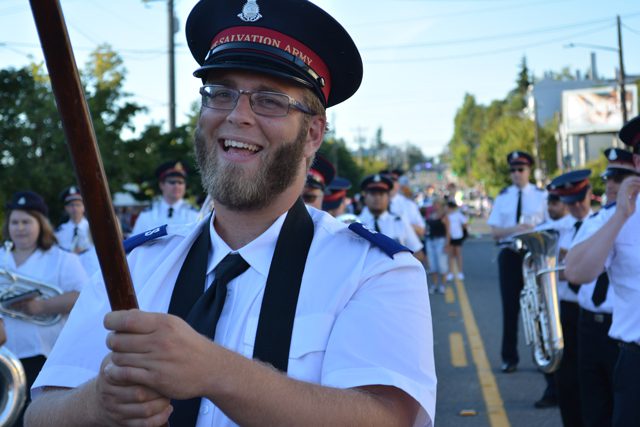 Seattle Temple Band loves a parade
Band marches in annual Greenwood Seafair Parade.
By Rob Reardon, Major –
The Seattle Temple Band of The Salvation Army continued a tradition of more than 25 years, participating in the annual Greenwood Seafair Parade July 27. Seafair is Seattle's iconic summer festival–a celebration that spans 10 weeks from mid-June through August. Events take place throughout greater Seattle, bringing neighborhoods together to celebrate community spirit.
As part of the fabric of the Greenwood neighborhood, the Seattle Temple Band proudly marches down the street each year. Children from the corps join in the parade, adding to the celebration's family atmosphere.
"The opportunity for the band to march is great," said Bandmaster Stefan Wennstig, who has marched in the parade as long as the band has been participating. "We're able to play music that glorifies God and promotes the mission of The Salvation Army."
Several years ago, the corps decided to serve hot dogs and lemonade to parade participants and early arrivals looking to secure their spot along the parade route. Since the parade begins in front of the corps, its parking lot is a prime gathering location.
Corps Officer Major Amy Reardon enjoys the interaction between corps soldiers and members with people from the community. "We have a wonderful opportunity to get to know our neighbors and express God's love by offering a hot dog and a cold drink to anyone who wants it," she said.