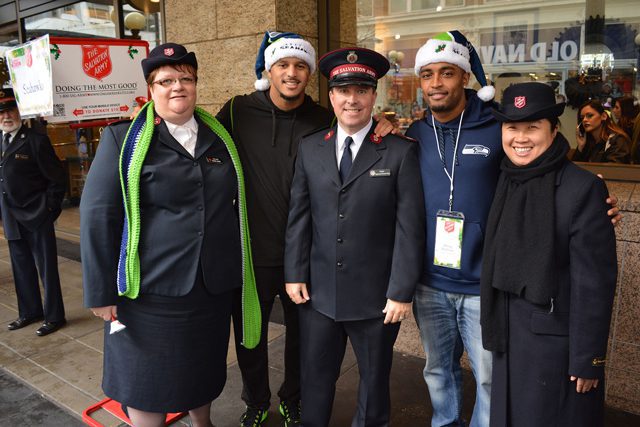 Seahawks' Doug Baldwin reflects on playing football
 Superbowl defenders' wide receiver began sports career with The Salvation Army
By Doug Baldwin – 
Doug Baldwin is headed to Super Bowl XLIX as a star wide receiver with the NFL's Seattle Seahawks, but he first played football as a child with The Salvation Army in Pensacola, Fla.  
Today, Baldwin regularly participates in charitable fundraising events—including The Salvation Army's 2014 Celebrity Bell Ringing event in Seattle.
"I play football," he said in May 2014 during his keynote speech at the 15th annual Loaves & Fishes Dinner, a fundraising event for The Salvation Army in Tacoma, Wash. "I don't get it when people give me accolades or want my autograph. I just play football. I don't save lives. But these people [at The Salvation Army] are saving lives every day."
The event program included his written testimony (below), which he wrote before the 2011 NFL draft, as he reflected on lessons learned during his football career.
You may recognize me as Doug Baldwin, number 89, a five-foot 10-inch tall wide receiver who played football at Stanford. You might remember me running over to the Stanford student section and putting my ear to the crowd before every game. You might know that I have caught 13 career touchdowns while at Stanford. Maybe you remember my touchdown catch in the corner of the end-zone at Cal that put us up 31 to zero before halftime. You might know that I am preparing for the 2011 NFL draft. But today, as I look back on the journey my life has taken from little league to high school to college and look ahead to future endeavors, I realize something. You have heard about my accomplishments on the field and define me by them, yet those accomplishments only scratch the surface of who I really am.
I played my first full season of football at the age of eight. Six days of the week, a bunch of eight-year-olds jogged out onto a sandpit-spotted field at a Salvation Army to play football in oversized shoulder pads and bobble head-like helmets. One of those players was a good friend of mine, Jeremy Madison. Everything we did together was a competition. When the team ran sprints, Jeremy and I would race to see who was the fastest. Even eating hot dogs after practice turned into a competition of who could eat the most. However, Jeremy outplayed me on the football field, so I played behind him on the depth chart. He was a young, muscle-ripped, stud running back with more talent than I could dream of. Coaches and parents prophesied him to be better than Emmitt Smith, a Pensacola native and NFL Hall of Fame running back. Even our highly competitive personalities could not come between our friendship. Nothing could.
Now picture this: after coming home from an evening practice, Jeremy finds his house engulfed in flames. Panicking, he runs into the burning building to search for his niece and nephew, but they have already made it out safely. As he frantically looks through the empty house, the flames grow larger. The roof cannot withstand the intense heat and collapses. Jeremy, a young kid with dreams of playing professional football, is now trapped under a burning roof threatening to take his life away. Hours pass. Rescuers eventually find him. They pull him from the rubble, but the time he spent trapped in the oxygen-deprived conditions caused massive brain damage and left him completely paralyzed.
The incident left our team and community in shock. After mourning the devastating tragedy to my friend and fellow teammate, life had to go on. I was forced to play in place of him, but it never felt right. I felt like the only reason I was on the field was because something bad had happened to my friend. I felt guilty. After Jeremy's accident, I decided to put everything I had into football because, somehow, I felt like I could honor him by doing so.
The following years at The Salvation Army were filled with winning several city league championships and most valuable player trophies, while building everlasting relationships with my teammates and coaches. In high school, I flourished my junior and senior years both in the classroom and on the field. My achievements on the field caught the attention of several schools, including Stanford. With family being such an important aspect in my life, I wanted to stay close to home. In terms of the academic prestige and reputation of Stanford, no other school could compare. After discussing my college future with my mother, I eventually decided to attend Stanford University.
As a freshman, I played right away, helping the team with depth. As a sophomore, I started at wide receiver and led the team in touchdown receptions. Entering my junior season, I had high expectations for myself. I felt like I was going to have a breakout year until an ankle sprain impeded my progress. During the few days that I sat on the sideline watching practice, my starting role was downgraded to backup. When I did step back on the field, it was with a chip on my shoulder. I was angry. How could I lose the starting role that I worked so hard for to an injury that was out of my control? I felt cheated and disrespected but most of all, I felt like I was not part of the team anymore. I wanted so badly to get back to where I felt like I belonged, starting.
My focus was in the wrong place. While being angry and upset, balls slipped through my hands during practice, routes were sloppy and easily covered by defensive backs and eventually I was downgraded to scout team and saw the field sparingly for the rest of the season. I continued to wallow in my own pity and question my role on the team. I even sought a way to leave and play football elsewhere. I did what most people would have done in my situation. I asked why was this happening to me? Why could I not focus the way that I had been able before? Why was I on the scout team when I was good enough to be a starter? That is where I went wrong. I was asking "why" instead of "how."
In comes my faith. My relationship with God had always been strong, but my experiences junior year only strengthened my faith. I was searching for answers to why things were happening to me, but I never stopped to think how I could get myself out of those situations. Late nights on the phone with my parents were filled with tears and fits of anger that expressed my heartache with football. I felt like my love for the sport I had devoted so much time and effort to was fading away. I hated it and I wanted out.
One night I was reading the Bible, desperately searching for answers to my problems. I came across a passage that read, "For I know the plans I have for you… plans for good and not evil, to give you a future and a hope." Suddenly, it all made sense to me. I had to stop worrying about things that were not in my control. I had to start controlling the things that I could and have faith that everything else would work itself out. I focused on responding to obstacles in the right way. I focused on overcoming them and not letting them hold me back. Then I remembered my friend Jeremy. I remembered how much we loved playing football back at The Salvation Army. Back then we were just out trying to have fun. I envisioned the days in the hot sun on the clay­ spotted grass fields. It was then that I remembered why I love football.
As I stepped on the field against Sacramento State last September, I felt nervous for the first time in years. It was like I was back at The Salvation Army playing on the sandpit-spotted fields. I wanted to do well for my teammates who were counting on me. I wanted to prove that I belonged. Most of all, I did not want to let Jeremy down. As the ball from the kickoff of our 2010-2011 season slowly tumbled through the bright blue Palo Alto sky, I knew that I would have a shot to redeem myself. On the ninth play of the game, opportunity began to knock. Taking off from the line was a blur. However it happened, I got behind the cornerback and the safety. I slowly looked up. There it was: my shot at redemption. All of my anger and hatred from the past year disappeared with every spin of the ball. The calm blue sky in the background set my heart at ease. As the ball slowly landed in my grasp like a gift floating down from the heavens, I felt my love for the game return and fill the gloves on my hands. The warm feeling passed through my arms and into my chest. It passed through my heart and fueled my legs to churn 81 yards for a touchdown. I was back.