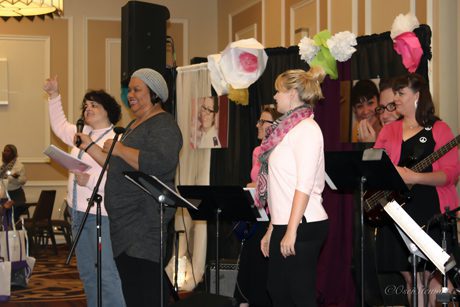 Reflecting on Sierra Del Mar's 2015 women's retreat
By Naomi Marie Stewart –
To be completely honest, I did not want to go to this retreat. My idea of a "fun" weekend was spending time with friends, staying at home and reading a book, watching TV, or anything that did not involve me mingling with middle-aged women. I honestly thought my weekend would be filled with corny crafts, overly girly games, and T.M.I. Home League stories. My mindset, "I'm 19 and I can do something way better with my time." I only attended to assist my mother, Major Lynn Stewart, for the weekend.
When I arrived at the hotel, my expectations seemed to already be fulfilled. There was murmuring between postmenopausal women about some sort of drama. All that went through my mind was, "I pray to God this won't be me in 30 years." My negativity toward these women and the event should have ruined this entire weekend for me and anyone nearby, but I guess God would not let that happen.
The theme was "Extraordinary Women." I instantly assumed that we would be taught about the women in the Bible and be encouraged to have qualities like them. Rather it was more about the personal aspect, how God sees us and how we should see ourselves—the typical self-image spiel. My cynicism was continually met with the voice of God. Little did I know that God was slowly breaking down walls that I had no idea I had built up again. My vulnerability developed and my heart was softened toward this event and toward these women. I was reminded of promises made between myself and God.
Apart from the skits, the GLAM night, the silent auction, the jewelry making, the clichés of women's retreats, I deeply appreciated the Bible study and the accommodation of the young adult contingent. Because of these things, I had a much better than expected experience. The messages given by Major Michele Lescano and the testimony and fellowship shared with Captain Lisa Barnes changed my perspective of women's retreat that weekend. My mother did an amazing job balancing frivolity and God's word. His spirit dwelled within the lightheartedness of the entire weekend, and I was completely blessed.
My favorite memory: Captain Lisa Barnes trying to heat up tacos with the steam of a hotel iron.