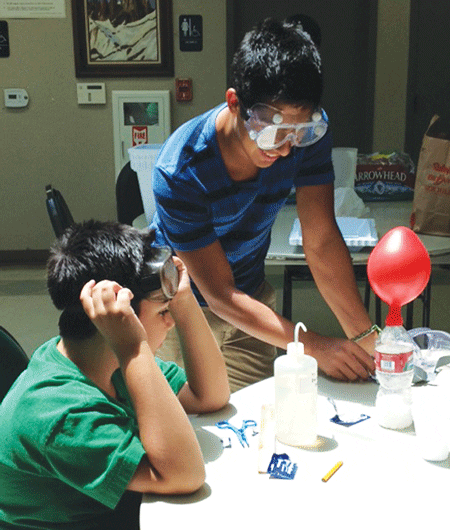 Science goes to camp
Chemistry professor and aides introduce science projects to Salvation Army summer campers.
 By Patty Guerra
If someone had asked Alexis Perez or Jacalynn Hall to hypothesize on how a molecule acts before Tuesday afternoon, chances are their responses would have been quizzical stares. But after a science experiment conducted with the help of some California State University (CSU), Stanislaus, students, Alexis, Jacalynn and the rest of the 30-some students at The Salvation Army's summer camp are well-versed in the scientific process.
Koni Stone, professor of chemistry, brought junior and senior students in the university's education program to The Salvation Army for a hands-on lesson in teaching children science.
Armed with water bottles, balloons and Alka-Seltzer, the teaching students showed the children how gas forms, expands and contracts.
Participants were asked what would happen—or to hypothesize—to a balloon at the top of a water bottle when more of the bubbly medicine was added.
"It will get bigger," Esmerelda Arellano, 11, predicted.
Why?
"Because there's more stuff in it," said Jacalynn, 6.
CSU student Christine Elberg explained how the process works, and why the balloons would shrink when the bottles were placed in an ice bath.
"When molecules are cold, they come together, just like we do," she said. "When they're warmer, they spread apart."
The children, who ranged in age from 4-13, measured the balloon after each experiment, noting how big it got with each addition of Alka-Seltzer or how small it got when dunked in an ice bath.
Julie Fox, director of service learning for the university, said the idea is to use everyday household items so the children can replicate the experiments for their parents.
Though Stone regularly visits Turlock classrooms with her students, this was the first time they came to The Salvation Army. They plan a return trip for another experiment next week.
Salvation Army Major Debi Shrum was happy to have them, and noted how interested and engaged the students were in the experiment, particularly when they added food coloring and oil to the water bottles, turning them into junior lava lamps.
"Who knows?" Shrum said. "Maybe some of them will become scientists."
Reprinted from The Modesto Bee with permission