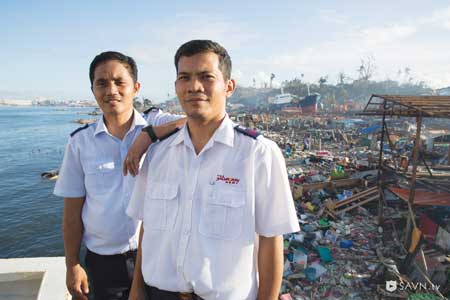 SAVN.tv responds to social media plea for help
Team travels to Philippines to document Army's ministry.
A team from SAVN.tv traveled to the Philippines to cover The Salvation Army's relief efforts following Typhoon Haiyan and to document stories of redemption.
When Major Linda Manhardt, USA Western Territory officer serving as training principal in the Philippines, posted a prayer request on Facebook after the disaster, Western Salvationists—including SAVN.tv—responded. Manhardt also listed over 20 people, who were the missing family members of Cadet Rene Doblon.
Colonel Wayne Maxwell, Philippines territorial commander, welcomed the SAVN team, which included Captain Robyn Bridgeo, Anthony Begonia and Ricky Fosheim.
The group traveled with Manhardt, Doblon and Field Sergeant Almer Ibanez—who also had missing family members—recording relief efforts and hoping to reunite the men with their families.
In Tacloban, the team found the airport completely destroyed.
"It looked like a warzone," Bridgeo said, "with military personnel, fallen trees, debris and trash everywhere."
As the team traveled to the command center at the Tacloban Corps, they witnessed thousands of Filipinos at work, cleaning up rubble and recovering bodies. Fear of disease—and martial law—prevented the workers from touching, identifying, or even praying for the bodies.
"We have seen some horrific devastation," Manhardt said, "but the team is well and we have a real sense of ministry as we seek to tell the story here."
In Santo Nino and other districts, hundreds of people waited as the team distributed food.
"We were amazed at how orderly, polite and thankful the people were," Bridgeo said. "This was the first contact with the Army for most…Cadet Rene and Field Sergeant Almer pitched right in…neither of them even asked when we would begin the search [for their families]."
The team progressed to where Ibanez's family had resided, changing course several times to avoid obstacles in the road.
When they arrived, Ibanez was reunited with family members he had not seen in over 13 years. "Despite the destruction of his childhood home," Bridgeo said, "Ibanez's face expressed only joy as he greeted his father."
The next stop was Guiuan, in Samar, where the eye of the typhoon first landed. Doblon had not been back to this village since he was a boy, when his mother sent him away to find a better life. When he was 16, a Salvation Army officer's son invited him to the Tacloban Corps, forever changing his life.
The team discovered the remains of his childhood school and continued to his mother's home, just a few miles away.
"Cadet Rene's family was living among the thousands of fallen coconut trees," Manhardt said. "They have lost their livelihood because the trees are gone…They planted a coconut, which symbolized hope."
As Doblon and his mother cried with joy, Doblon praised God and thanked The Salvation Army for bringing about this reunion. Then, unexpectedly, he pulled out his Bible and presented the gospel to the children gathered there, and they accepted Jesus as their Lord and Savior.
Look for a documentary of redemption and reunions coming soon on SAVN.tv.