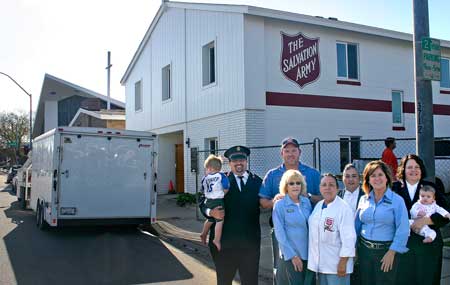 Santa Maria Corps has a new home
The First Presbyterian Church in Santa Maria, Calif., sells its facilities to The Salvation Army.
The Santa Maria (Calif.) Corps has consolidated its ministries at a new location: the three buildings that once housed the First Presbyterian Church.
Over the years, First Presbyterian's once thriving congregation dwindled, and the church faced a difficult decision. After much prayer and discussion, it sold its land and buildings to The Salvation Army Santa Maria Corps, knowing that the Army would carry on a tradition of serving the community.
The Santa Maria Corps has experienced a growth spurt in the last few years. Corps officers Lts. Paul and Jennifer Swain have witnessed increasing numbers of both seekers and people needing assistance, and felt the pains of expansion. They have had to coordinate all of the worship and community programs from two buildings—a total of about 8,000 sq. ft.
The number of people attending worship services has tripled. In addition, about 1,500 people per week receive case management, housing assistance, utility payments, help with medical or car repair bills, marriage counseling, and referrals to drug and alcohol rehabilitation programs. Nearly 100 people receive lunch each day. The move to the former First Presbyterian building more than doubles the corps' space and puts all services in one building near the city center, bus stops and other caring organizations like Catholic Charities and the Good Samaritan Shelter.
"It's obvious the new facility is exactly where God intended for the Army to be in Santa Maria: close to our previous locations, near the city center, and in an area of incredible need," Jennifer Swain said. "Our story is similar to that of the Israelites. It took 15 years to go half a mile, but now we're living in the promised land!"
The Swains have been working on the potential move for two years. Now that it is a reality, they are receiving help from the Santa Maria Community Development Department and the Rotary Club to organize the transition this summer.
With all the extra room, the Swains look forward to new Bible study groups, outreach, prayer meetings, after-school programs and Sunday school—not to mention new ministries.
A grand opening is planned for October.