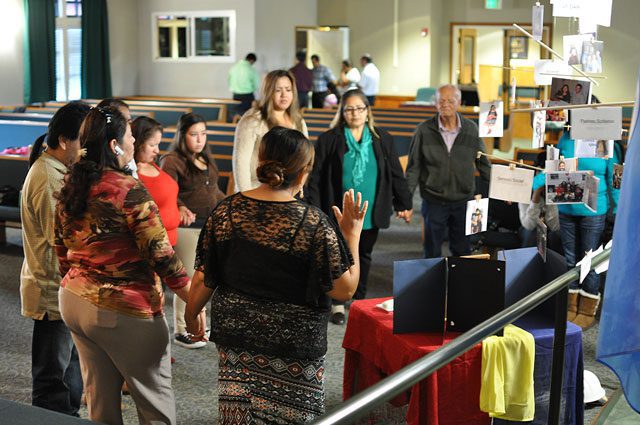 Uniting through prayer
Santa Cruz corps hosts 24-hour prayer event
By Lt. Francine Huck – 
The Holy Spirit's presence drew Santa Cruz (Calif.) corps members closer to God and one another at the corps' 24-hour prayer day on August 23.
"From planning to following through, this event was a blessed success," said Captain Lourdes Griffith, Santa Cruz corps officer. "To say that the Holy Spirit was present is an understatement."
The prayer day—organized by corps leaders—began with a regularly scheduled Friday prayer meeting. Individuals constructed five stations to inspire prayers for the corps, The Salvation Army worldwide, other denominations, the poor, ill, forgotten, and addicted, as well as the surrounding community and civil servants.
"The five stations were targeted to a general, yet expansive subject or need, along with prayer requests that in the end were taken by the participants to continue to bring those needs to the Lord," Griffith said.
Groups of prayer warriors rotated to each of the stations praying for the requests. There was even a youth group who offered a dramatic scene depicting an old Salvation Army open air meeting to fuel enthusiasm and purposeful prayer.
Various corps members committed to one hour shifts during the 24-hour period, and everyone reunited on Saturday evening to close the day of prayer.
The congregation then experienced the blessing of united communion with one another and God.
"We implemented the chain prayer—an hour at a time—by many who participate, and then came together at the end with this amazing meeting celebrating God," Griffith said. "Prayer works."