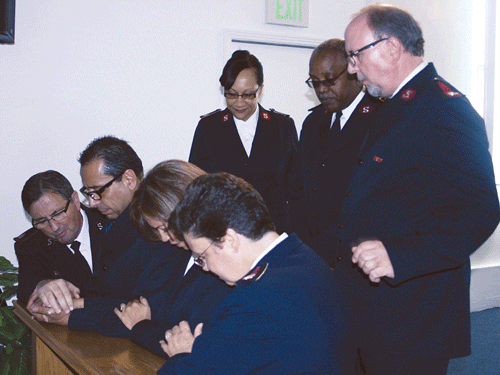 San Luis Obispo Corps re-opens
Faithful soldiers keep ministry to the community alive for the past year.
By Robert Brennan
The Salvation Army's San Luis Obispo Corps and Community Center (Calif.) opened its door after a brief hiatus Oct. 2, and soldiers Juan and Patricia Torres welcomed territorial and divisional leaders to share the moment.
For almost a year, the Torreses have maintained social services and the spiritual footprint of The Salvation Army in San Luis Obispo. "We are overjoyed and grateful to our Father for the privilege of working with the community of San Luis Obispo," Patricia Torres said. "The people here are so gracious and generous with The Salvation Army."
Members of The Salvation Army's Tustin Ranch (Calif.) Band, played English-style brass band music in a free concert in the park Oct. 1. A more formal public concert took place later that evening at the First United Methodist Church in Arroyo Grande, where cellist Sarah Koo and pianist David Dunford joined the band.
Territorial Leaders Commissioners James and Carolyn Knaggs and Southern California Divisional Leaders Lt. Colonels Victor and Rose-Marie Leslie attended the first service in the newly re-opened corps and witnessed 15 junior soldiers and seven senior soldiers declare their commitment to the Lord.
The Torreses are confident that now, with a more visible presence, The Salvation Army will be able to increase its social services to those in need by providing food, clothing, utility assistance and after-school activities, and to continue to grow the faith community as well. The Salvation Army has been fulfilling its mission in this part of California since 1891, and with the re-opening of the San Luis Obispo Corps and Community Center, the past and present have been reconnected and the future looks bright.