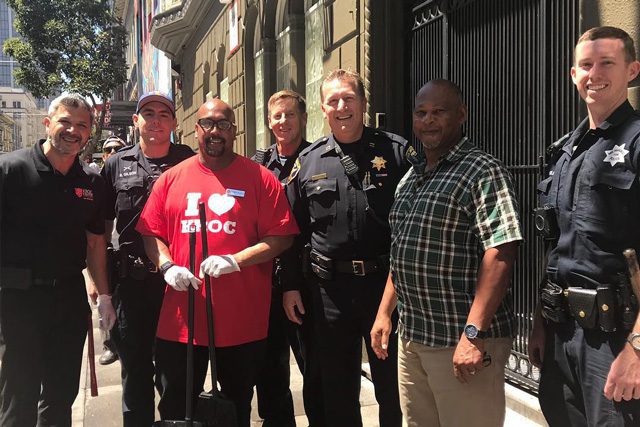 San Francisco Kroc Center helps clean up Tenderloin neighborhood
Salvation Army staff team up with neighbors to make their block safer.
By Vivian Lopez –
A year ago, crime outside the doors of The Salvation Army Ray and Joan Kroc Corps Community Center in San Francisco was the norm. But a group of like-minded individuals on the 200 block of Turk Street decided to tackle the problem, once and for all, by reclaiming their neighborhood to make it safer.
Every weekday at 2:30 p.m., the 200 block of Turk Street, located in the heart of the notorious Tenderloin district, becomes a focal point for community action. Staff from the Kroc Center and neighboring organizations, business owners and community members go outside to clean the sidewalks—whether that be sweeping, cleaning windows or picking up trash—and interact with people on the streets, clearing the area and making it safer for kids as they walk through it after school.
"Before we started doing this on a regular basis, you would walk out to the front of our center and there would be active drug dealing and drug using," said Chris Audette, San Francisco Kroc Center Director. "We've seen a tangible change in this activity that's directly outside of our facility on our block."
Audette said crime-related activity has diminished by about 75 to 80 percent during daylight hours on their block due to their "Block Activation" efforts.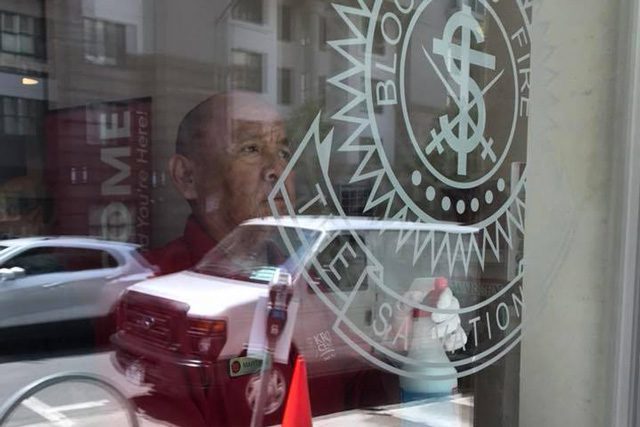 "It makes us, as community organizations, feel empowered to do more," Audette said. "It's been something that's been missing for a very long time."
The Turk Street outreach efforts were inspired by the success of the Golden Gate Avenue Block Safety Group that originated in 2015. According to a case study by the American Hospital Association, the group was able to transform Golden Gate Avenue in the Tenderloin, which had previously been a hub for drug-related activity, through Block Activation efforts. Within two months of "activating" the street, it saw a significant decrease in drug traffic.
"What they found was that daily activation—meaning coming outside the building and spending just 10 to 15 minutes cleaning, greeting neighbors, [or] offering information about services in the neighborhood—will decrease negative activity and increase positive activity," said Kate Robinson, director of Tenderloin Safe Passage, an organization that spearheads youth safety efforts in the Tenderloin, and helps lead community block activations.
In June 2017, Turk Street stakeholders from the 200 block, including the Kroc Center, came together to address the safety concerns of the area, and come up with solutions.

They decided to follow the lead of the Golden Gate Avenue Block Safety Group, meet once a month and start their own Block Activation in October 2017.
"The Salvation Army was instrumental in really getting this started. They were the momentum that we needed," Robinson said. "They really showed that commitment and just started going out there every day. And then we adjusted our Safe Passage programs, so our volunteers could go out there and support the Block Activation."
Major Raymond Erickson-King, Kroc Center Corps Officer, said it is important for the Kroc Center to be part of the Block Activation and show its presence in the Tenderloin community.
"That's our roots, to do ministry of programming outreach outside of our walls. That's how I came to The Salvation Army—through an open-air meeting when I was 10 years old," Erickson-King said. "Us being out there helps us to share with the community that we care…and that we want to make a difference."
Robinson said the impact of the outreach efforts is evident.
"It has completely transformed that block in a year. We have staff members and residents coming outside, not being afraid, and building relationships with each other, as well as the people who are hanging out or living on the streets," Robinson said. "It's coming outside and taking pride and ownership in the neighborhood." 
Erin Greer, property manager of Chinatown Community Development Center's Tenderloin Family Housing facility on Turk Street, is an active participant in the Block Activation.
"It's really helped as far as people on the streets being able to see us…and they are starting to expect us," Greer said. "It's really important to take ownership of the neighborhood and remind everybody that is out on the street that this is our street, too."
Officer Eric Robinson of the San Francisco Police Department Tenderloin District Station, takes part in the outreach efforts, as well.
"It's a fantastic idea…and it's a start," Robinson said. "Other businesses in the area see this happening, and they're going to want to start it in their areas. It makes a difference in the long run."
Audette has big dreams for what the Block Activation can continue to accomplish, not only on Turk Street, but across the Tenderloin.
"The real end game is much bigger. It creates unity. It creates fellowship. It creates a sense of resolve that we can make a difference in the community," Audette said. "I hope that we can be the epicenter for some real significant change."