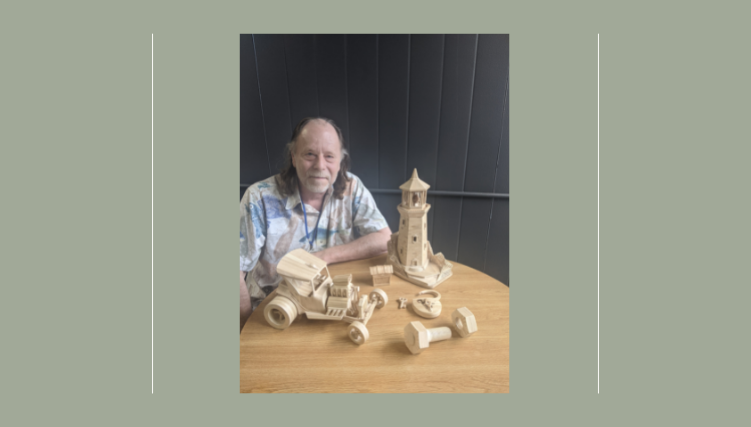 San Francisco Harbor Light resident discovers newfound creative ability and gives back
The Salvation Army's Harbor Light Recovery Center in San Francisco is a shelter for those experiencing homelessness that provides wraparound services like addiction rehabilitation and job training. 
Everyone who has walked through those doors has had a past life that is still very much a part of who they are today. 
Ken Eastlack is one such resident. As a former engineer, he designed and built medical equipment for diabetics. 
"I've always been a builder ever since I could hold a hammer," said Eastlack. "I could make anything out of metal. From 1982 until recently, I was a machinist and metal fabricator so I understand how to fabricate things."

One day, Eastlack was sitting in his recovery counselor's office and noticed her business card on the desk with The Salvation Army shield. His imagination soared. It reminded him of a crest on a ship and he wondered if he could construct a model of a ship with that crest at the base. 
"Inspiration comes out of nowhere. It can come from something I've seen and heard that can excite me, and I think, 'this is neat!' I have a vision of what I've seen and then wonder if I could make that," explained Eastlack. 
He thought about the project for a few weeks before he started looking for supplies. While he was in the cafeteria, he noticed that the coffee stir sticks were extremely malleable once they got wet. So he began collecting as many as he could and decided his ship would be made out of wood. 
He began to bend and tape the wooden stir sticks together and sure enough they held that shape. He started with the keel of the ship and moved on to the sails. 
The twine for the sails was made from roast cord from the kitchen. He unwound it until it was just two strands and stained it with coffee to give it more of a rustic look. 
The other supplies were everyday items he found around the center. He would cut the coffee stir sticks with toenail clippers, glue them together with Elmer's glue and also used supplies like sandpaper, toothpicks and shoe polish. 
"Seeing him tapping into his artistic talents has been incredible to watch," said Kristine Kaehler, recovery counselor at Harbor Light. "His recovery was manifested in his art." 
The extra time Eastlack found himself with after the Covid lockdowns led him to start imagining.  Since summer 2020, he has created seven wooden models including: a lighthouse, a foot-long model hot rod with working steering wheel, jewelry boxes, a nut and bolt, a working padlock with treasure chest, a ship, a working motor, and currently he is working on a horse. 
The ship sculpture took four months and 500 hours to complete.

"The clock doesn't count while I'm doing it," Eastlack explained. " The entire day could go by and I didn't realize it went by. It'll be dark outside and I'll be hungry and realize I've been doing this all day. It's a very happy place to be." 
One hurdle Eastlack has had to overcome is his focus. Since having a stroke a few months ago, his ability to focus and think through obstacles in his art has been dulled. He has recently picked up sculpting again after recovering, and is determined to keep going. 
Executive Director and Corps Officer Major David Pierce has seen firsthand how the creative arts have the power to heal residents at their center.
"In the evenings, our residents have a more flexible schedule. This allows people like Ken to discover the talents they have inside of them and to have time to explore them. I would say Ken's life is a lot better now. We love Ken, and we love having him here," Major Pierce said with a smile. 
Many residents at Harbor Light have special talents—some are musical and some are artists—including six incredible painters. They have even had a few in-house plays and performances. 
In the near future, a class will be set up where Eastlack can teach woodworking skills and help other residents discover what talents lie deep inside of them. 
"To help someone do something they didn't realize they could do, well I would take great pleasure in that," he said.
When it's Eastlack's time to leave Harbor Light, he plans to travel the country in his motorhome. He has toyed with the idea of selling his art, but for now, it's something he does just for him. 
"I hope he connects with his community and uses his art to engage with people," said Kaehler. "I hope he uses his abilities to share his talent with the world."
---
Do Good: