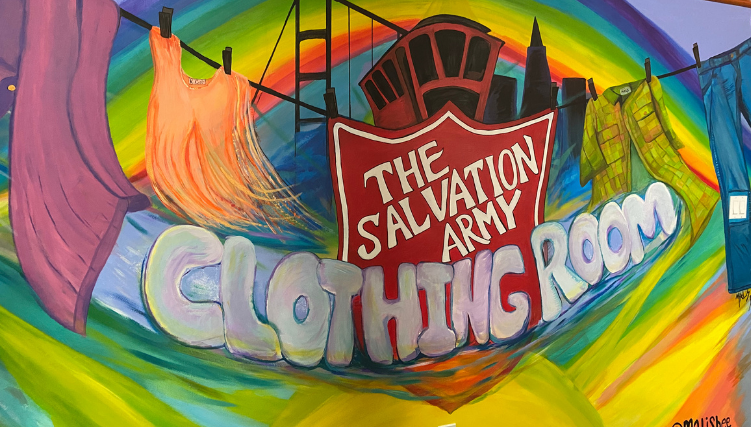 In the San Francisco Salvation Army's clothing room, clients shop name brand items
There is a new place to get clothing in downtown San Francisco. It certainly has a name you would recognize, and the audience is by invite only. The folks who are invited to acquire sporty brand name items? Salvation Army clients and others who are struggling with pandemic poverty. 
Aptly named The Salvation Army Clothing Room, this new offering opened in mid-April and is filled with donations from Gap, Banana Republic and other contemporary casual clothing stores as well as assorted household items donated by Costco. 
"We have noticed that a lot of our clients need clothing and basic cleaning supplies, now more than ever. We are always looking for ways to make an impact on the lives of our neighbors here in San Francisco," said Major Matt Madsen, Divisional Secretary for San Francisco. "The pandemic has claimed more than just lives, it's stolen hope away from those who had very little to begin with. We pray that efforts such as The Salvation Army Clothing Room will begin to restore the hope that has been lost over this past year."

The Clothing Room is located at The Salvation Army's Family Service Center on 6th and Jesse Streets. 
Kenny Cowan, Social Service Hub Coordinator for The Salvation Army in San Francisco, has been working on creating this project since January. Together with a group of volunteers, he has transformed a dusty warehouse space into a bustling gem of community service in one of the more downtrodden neighborhoods in San Francisco. Through paint, new shelves and a lot of love and elbow grease, there are now rooms for men and women's clothing, and a space for cleaning supplies, pet supplies and bed items, among other necessities. 
"A lot of our clients don't have the opportunity to shop at Macy's or a nice boutique, so I wanted to give them a dignified experience in a nice place," said Cowan. 
Donated items are picked up at Costco and various locations around San Francisco. Clients come from The Salvation Army Corps Community Centers around San Francisco and other service organizations such as META SF and Compass SF. 
"People are still not sure about getting out," said Cowan. "So, we want them to know we are respecting social distancing guidelines. We do not want more than one person at a time in each room. Everyone gets a 30-minute scheduled appointment. We could do as many as 21 or as little as 7 a day, depending on whether they want to go to each room."

And the volunteers are grateful for the opportunity to help. 
"We took around a few clients, helped them choose clothing items and brought them to the check-out area," said San Francisco Salvation Army Advisory Board Member Fifi Holbrook, who volunteered recently with her friend and Salvation Army volunteer Paula Escher. They also volunteer together at the Toy & Joy Shop during the Christmas season.  
When asked if she had fun, she quipped, "Shopping is always fun!" 
And when it is for the underserved in our community, infinitely more so. 
---
Do Good:
What cause best fits your personality?

Take our quiz

and discover where you can make the biggest impact today in the Fight for Good. 

Being a nice human

always

has a place in your day. But how to go about it?

Join 23k+ people who care

and find weekly inspiration from the Do Good Digest right inside your inbox.

Have you ever found yourself wanting to volunteer but unsure of what to do or how to go about it? Here's the key: You can make an impact in the Fight for Good with whatever time and skills you have. Whatever your interest, there is a

you-sized

need for goodness in the world.

Get the guide on How To Be An Impactful Volunteer

with 9 habits to make a difference when giving back.