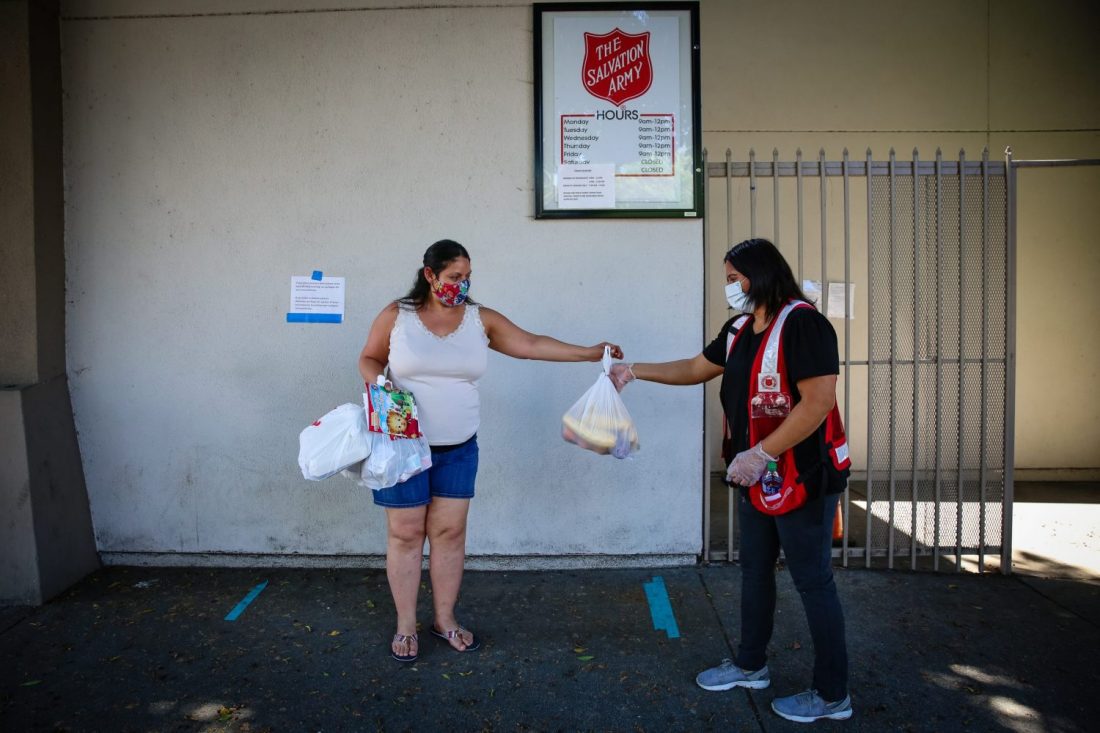 Record giving surges alongside need
The Salvation Army is serving more people than ever, donors respond in kind
When COVID-19 hit the United States and demand for services shot up, fundraisers at The Salvation Army prepared for the worst.
In a year when the need was so great and families across the country were challenged financially, it seemed inevitable that donations would plummet and fundraisers would be unable to meet the need.
But the opposite has proven true, with corps across the Western Territory seeing record levels of giving this past year. 
"It's just absolutely heart-warming and simply amazing," said Debbie Rossi, Executive Director of Development for the Western Territory. "Better than any of us ever anticipated."
The Western Territory has seen a 24 percent increase in giving over the previous year as people responded to unprecedented need presented by the pandemic. And notably, nearly a year later, that level of need remains steady.
That money has helped The Salvation Army Western Territory provide more than 5.5 million meals, beverages and snacks and some 600,000 nights of lodging since mid-March, according to Sabrina Kiser, Director of Social Services. And the service continues.
The territory saw a 400 percent increase in meal delivery in the early months of the pandemic as corps aimed to feed not just seniors and those with mobility issues, but also kids who were out of school and people who were diagnosed with COVID-19 and in isolation. Now, the focus has shifted to providing groceries so that people can continue to feed their families as the pandemic carries on.
"I think people understand that we are in a difficult year and there are people that are really hurting out there," said Major Osei Stewart of the Los Angeles Metro Area. "Our donors and the people we work with, they understand that the need is there and it's even greater because of the pandemic. They recognized that and they responded, which we're very grateful for."
Stewart and his team were prepared to see a decline in giving at their LA Metro Christmas Kettle Luncheon. Organizers shifted the in-person gathering to a virtual event, but it was hard to imagine meeting their annual $450,000 goal. Maybe $200,000 would be possible, he remembered thinking.
"We didn't think we could possibly attain it, because we hadn't done a virtual luncheon before and we were not sure people would be interested in joining us," Stewart said.
But donors shattered expectations.
Before the event even started, they had surpassed their goal of $200,000. A typical year raises about $400,000, but this year's event surged past that. Stewart's latest count the week of Christmas showed more than $572,000 donated.
"We were just amazed," Stewart said. "It turned out to be a huge success."
Los Angeles' story is not unique. Corps across the territory have seen donors giving at unprecedented rates, Rossi said.
The Del Oro Division saw a 44 percent increase from the year before, said Director of Development Kim Butters.
"We decided as a division from the moment the pandemic hit we were going to be here for the community," Butters said. "We were going to show up during the pandemic for the community…and our donors showed up with us."
The additional money helped The Salvation Army distribute more than 166,000 meals and food boxes through local drive-thrus in addition to thousands of meals to those sheltering at home, Butters said.
National data shows that donors shifted their priorities this year. Educational and cultural institutions saw a decrease in numbers, but organizations providing services in the community, including health-related and social services, saw an uptick.
"The American public basically shifted what organizations they were going to support based on the need the pandemic created," Rossi said.
Both Butters and Stewart credited the deeply personal relationship their team members have with donors for the record numbers they've seen this year.
"The Salvation Army allows us to develop these wonderful relationships and friendships with our donors," Rossi said. "I've never seen more loyal donors. They trust us to do the right thing."
Initially, there was some concern on how to maintain those personal relationships without in-person contact, Butters said. But despite not being able to meet face-to-face, meet for coffee or provide an in-person tour, Butters said her team used technology to keep those relationships strong.
In fact, there were some benefits. Many of their longest, most loyal givers are elderly and are not always able to attend an in-person event. The pivot to virtual offerings allowed them to stay connected and see how their dollars were making a difference.
"We've learned new techniques and created new tools that are going to be with us for many years, including when this pandemic is over," Butters said. "We have to be prepared for change, we have to have those open minds and we have to be creative."
The Salvation Army must find a way to continue that creativity and persistence, Stewart said, as the pandemic continues to affect millions within the community. The hope is that donors will continue to rise to the occasion and trust The Salvation Army is doing all it can to help those in the community.
"The need is still great," Stewart said. "While we are thrilled with the numbers, it's still not enough. Unfortunately, that's the reality we're in at this point."
You can help meet the need in your community with a gift to The Salvation Army.
---
Do Good:
Do you have a hard time telling people what you do, or what you're passionate about and why? Ever stared at a blinking cursor, unsure of what to say or where to start? Or do you avoid writing altogether because you're "not creative enough"?

Take our free email course

and find your story today.

 

Are you a Do Gooder, someone who cares about bringing goodness into the life of your family and community?

Subscribe to The Do Gooders Podcast

with Christin Thieme to be inspired by those doing good and find tangible tips for simple actions you can take today.

See how you can get involved in the Fight for Good

with The Salvation Army

.