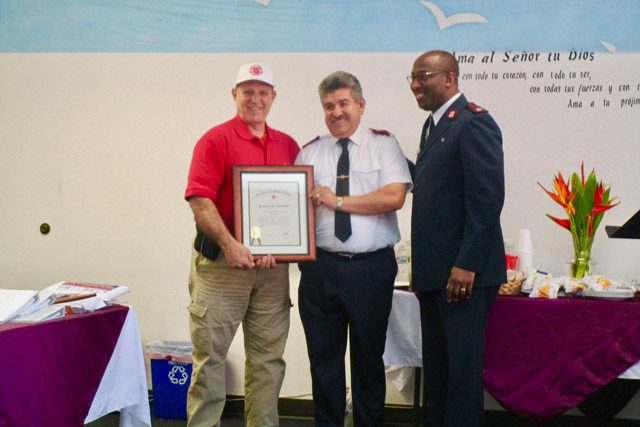 San Fernando Valley Corps starts first advisory board in 13 years
The board's launch was inspired by the territorial advisory board challenge.
By Vivian Lopez – 
San Fernando Valley Corps Officer Captain Juan Argumedo felt inspired by Territorial Commander Commissioner Kenneth G. Hodder's challenge to have an advisory board in place at every corps, unit and adult rehabilitation center in the West by Jan. 1, 2020. So, he decided to do just that at his corps in Van Nuys, California—with the support of territorial leadership along the way.
"I didn't have any experience with advisory boards," Argumedo said. "But [Territorial Communications Secretary] Lt. Colonel Kyle Smith motivated me, and told me, 'Hey Captain, you do this and this."
The need for an advisory board had been in his heart for about two years, as the corps had not had one in almost 13 years. Argumedo started attending numerous service clubs and organization meetings, like Rotary Club, Kiwanis and his local Veterans Affairs, to build relationships and share about The Salvation Army's work with people in the community he serves.
"Well, because I planted the seed, after a year and a half, everybody started talking about the importance of having an advisory board," Argumedo said.
During this time, Argumedo met Nathan Wolfstein of Be More Prepared, a local disaster preparedness organization. After working with him on community disaster preparedness efforts, Argumedo asked Wolfstein to help him start the corps' advisory board.
Wolfstein, who is now the advisory board chairperson, said the board officially started at the beginning of August with three people and has grown to around 20 inducted members. And there are even more interested in joining.
"Our board meetings are very full," Wolfstein said. "Everybody gets a chance to share what they think we should do and how they think we should do it."
Charles Smith, the advisory board's treasurer, decided to join to bring his expertise in working with community partners and fundraising.
"It's been great," Smith said. "We've made some good connections in the community. We have a really good, diverse board with access to different resources."
The focus of the board is on community emergency and disaster preparedness, but they also have plans to launch after school youth programs for soccer and computer and graphics. They are also working on English and citizenship classes, veterans outreach efforts and a senior program, where they have older adults come in for lunch and networking multiple times a month. 
"We want to establish the corps as a community resource center," Smith said.
Emphasizing the diverse population of the area, Wolfstein also hopes to bridge communications in the community and ensure there are people on the board who are multilingual so they can understand the needs of people seeking help—especially during natural disasters.
But ultimately, Wolfstein wants the board to enhance the community and be there for people.
"Every community wants a place to go in times of need, and they want to know that they are people they can trust and they are there to help them," Wolfstein said. "The Salvation Army has that reputation and we're just enhancing that and showing the community new and more ways they can work with Salvation Army and show them how [the organization] is there for them."
"It's already brought a great deal of attention to the facility and what The Salvation Army is doing in the local community…and what we have plans on doing," Smith added.
Argumedo is excited to see his dream for the corps come to fruition with the advisory board.
"The advisory board right now is very active and helps us to make more relationships, open doors in the community, get more donations and grants, and…helps me with programs in the corps," Argumedo said. "I'm very happy."