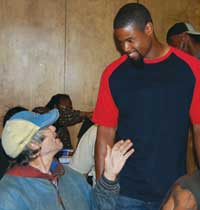 San Diego Chargers score big with Salvation Army
Football team gives back to their community each week–serving the homeless.
by Suzi Woodruff Lacey
The San Diego Chargers win every Thursday evening in San Diego! For the past 12 years, players, coaches and staff have faithfully provided and served dinner to the homeless at the downtown Salvation Army Centre City Corps. On a recent night, something extraordinary happened: the homeless kept on streaming in and the volunteers kept stretching the food until every person was fed.
"It was a record!" said Salvation Army Women's Auxiliary past president and volunteer Mary Johnson. "We served 174 homeless people dinner in three seatings, almost miraculously stretching [volunteer] Mary Ula's soup and cobbling together some extra sandwiches until everyone was fed."
Johnson recounts the story that a 56-year-old grandmother, Bettie, told her over dinner. With tears in her eyes, Bettie said they were blessed to have found a garage to sleep in. Her grandson, Kevin, added, "that means we aren't really homeless anymore."
Major Ron Wildman, administrator of the Centre City Corps, expressed gratitude to team owner Dean Spanos, who sponsors the meal and often comes to serve along with his wife, Susie. Recently, The Salvation Army honored the man who puts it all together, Chargers Director of Player Outreach Dick Lewis, by giving him the first Salvation Army Partners in Mission Award.
"We want the homeless to know that somebody cares about them. We want to provide a second step, to help them move from the streets back into the mainstream," said Lewis.
To help serve the meal, the Chargers bring youth from a local drug and alcohol rehabilitation center; after the dinner, the Chargers form a fellowship circle in the courtyard to encourage and strengthen the youth, hoping to inspire them to stay on track in their lives. It's a double win—helping the teens can prevent homelessness while growing their capacity to assist the homeless rather than judge them.
Chargers Wide Receiver Gary Banks, a regular at the Thursday dinners, said, "I'm sure these people didn't grow up thinking, 'I'm gonna be homeless.' It hits you in the heart!"