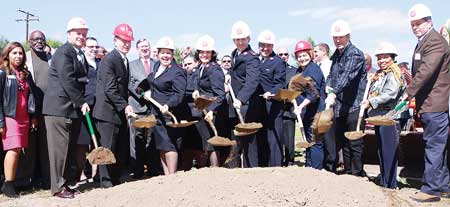 San Bernardino Corps to move, expand
A new, larger chapel figures to ease overcrowding.
The Salvation Army San Bernardino Citadel Corps Community Center is relocating and expanding its  programming following The City of San Bernardino's purchase of the current facility.
Currently, The Salvation Army is remodeling the 3.5-acre facility in Highland, Calif., former home of Banner Elementary, a Christian private school. Once completed, the community center will include a new, larger chapel, six administrative offices, 10 classrooms, a library, a computer lab, an outdoor covered meeting area, a childrens' play yard and a recreational sports field. The added space will allow the center to run additional programs for youth, including Adventure Corps, as well as adult discipleship classes and worship services. No date is set yet for an official opening, but Paul Bennett, San Bernardino Corps office manager, said he hopes it will be completed sometime in spring 2014.
At the groundbreaking ceremony in October, Sierra del Mar Divisional Commander Major Lee Lescano welcomed and formally introduced the new San Bernardino Citadel Corps Officers, Major Daniel and Captain Anya Henderson, who previously served in Estonia.
"We're overcrowded in our current location," Daniel Henderson said. "The corps is running 110-120 people for worship services as is, so this will make it much easier to grow."
Representatives of the local government, including San Bernardino Mayor Patrick Morris, attended the groundbreaking ceremony. Several members of the San Bernardino City Council also thanked the thousands of residents who graduated from Salvation Army programs and are now giving back.
"This city is in desperate need of the services The Salvation Army provides," Morris told the crowd at the ceremony.
According to Bennett, The City of San Bernardino purchased the community center's current facility via eminent domain, the power held by federal, state and local governments to claim private property. It then had to supply The Salvation Army another building of just compensation, as outlined in the Fifth Amendment of The U.S. Constitution. City officials were unable to locate an adequate facility until Bruce and Carol Herwig, owners of the Highland property, contacted The Salvation Army and made the space available for under market value.
"We were able to apply the funding we received from the City of San Bernardino to acquire that property and fix it up to our [specifications] and do our ministry there," Bennett said. "It's much larger than our current property."
Services currently offered at the community center like meals and laundry assistance will be transferred to the Transitional Living Center and Family Emergency Lodge once the new community center opens, Bennett said. The move will not disrupt any services offered at other Salvation Army facilities in San Bernardino and surrounding areas of Bloomington, Colton, Grand Terrace, Highland and Rialto.
Though Henderson and his wife face a different set of challenges than they did in Estonia, he is excited to settle into his new role.
"The Salvation Army is far more developed here," he said. "In Estonia we spent a lot of time just trying to get the word out about The Salvation Army. There's no need to start from scratch here. There's already so much support from the community."