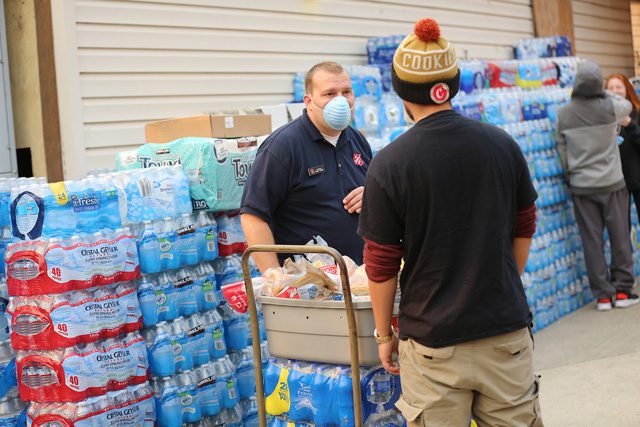 Salvation Army undeterred by California fires' impact on its own operations
Part of The Salvation Army's camp in Malibu burned in the Woolsey Fire, while its entire social service office and thrift store up in Paradise, California, was destroyed by the historic Camp Fire.
Wildfires are once again churning across the Golden State, with the Camp Fire in Northern California now headlining as the one of the deadliest and most destructive blazes for property in modern state history. Down south, the Woolsey Fire and Hill Fire are wreaking havoc northwest of Los Angeles.
In all, at least 31 people have been killed, and that figure is expected to jump in the coming days. Officials warned that it could take weeks to fully contain the fires. California Gov. Jerry Brown is requesting a "major disaster declaration" for the trio of infernos.
The Salvation Army, which is dealing with the fires' impact on its own operations, is working to deploy resources to the most heavily affected areas. Here's a look at where relief efforts stand on both ends of the state: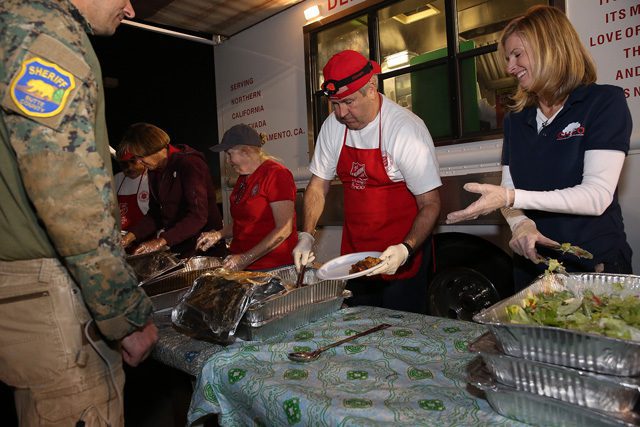 Northern California
The Butte County sheriff announced that the death toll in and around the town of Paradise has reached 29, yet over 200 people remain unaccounted for, raising the possibility that more bodies will be unearthed as search and rescue crews sift through charred remains. Currently, it is tied in the number of fatalities with the 1933 Griffith Fire.
The fire has destroyed some 6,700 structures, including The Salvation Army's social service office and thrift store in Paradise—a town of 27,000 people. Salvation Army staff members are among those who've lost homes. The organization said the losses would temporarily interrupt services, but they hope to be back up and running as soon as possible.
More than 4,500 personnel are assigned to the Camp Fire as 15,500 additional structures remain under threat, according to Cal Fire. In addition to the 29 civilian fatalities, three firefighters have suffered injuries battling the blaze.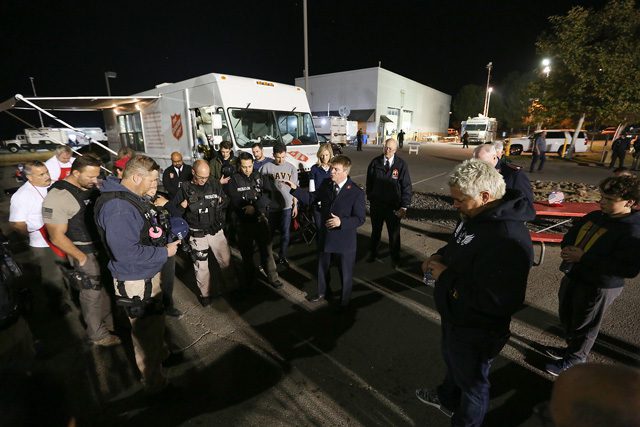 The Salvation Army has served more than 13,000 meals in Butte County while offering emotional and spiritual care. Teams are set up at three sites in Chico, two in Oroville, and three more throughout the county. Celebrity chef and restaurateur Guy Fieri, brought his "Knuckle Sandwich Crew" to help The Salvation Army serve meals to fire evacuees, survivors and first responders at Butte College.
Corporate partners have also stepped up in a major way. Smart & Final donated chicken and three cases of bananas, Savemart Paradise donated a truckload of food, Code 3 and Dutch Bros. Chico! donated coffee, Monster Energy gave 100 cases of energy drinks and Woodstock's Pizza Chico gave 100 pizzas.
Southern California
The Woolsey and Hill fires forced evacuations for some 250,000 people, including those at The Salvation Army's Camp Lawrence Daley at Mt. Crags, Camp Gilmore and Camp Wilderness, which provide summer camp experiences for 2,000 children every summer.
Camp Wilderness, a section of the campgrounds reserved for programs with underprivileged teens, was completely lost in the fire. With the region facing another wind event until Tuesday, the camp's remaining structures are still in jeopardy.
Meanwhile, staff and volunteers from the Ventura Corps, Oxnard Corps, San Fernando Valley Corps, Simi Valley Service Extension and Valley Missional Communities are serving at six evacuation shelters across the region.
The Hill fire, about 13 miles north of Thousand Oaks, was 80 percent contained, as of Monday, and the Woolsey Fire is spreading at a slower rate. The Los Angeles County Sheriff's Department is allowing people to return home in parts of Agoura Hills and Westlake Village.
Still, fire crews are on high alert, as bruising Santa Ana winds on the horizon could undo much of their hard work. CalFire says there are nearly 5,000 fire personnel battling the Woolsey Fire, along with 571 total fire engines, 91 fire crews and 21 helicopters.