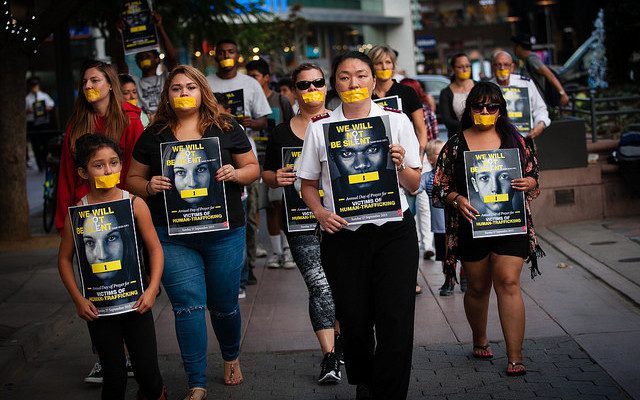 Salvation Army to lead Long Beach trafficking group
Increased role could open up opportunities for more grants.
By Laurie Bullock –

The Salvation Army will assume leadership of the
Long Beach Human Trafficking Task Force
(LBHTTF) following a five-year stint with founding organization
Kingdom Causes Long Beach
(KCLB) at the helm.
Though KCLB is relinquishing its leadership role, it will still be involved as a partner organization.
"[Kingdom Causes] had grown the task force as far as we could with our capacity," said Jeanette Cheng, Director of Public Policy and Advocacy for Kingdom Causes. "The Salvation Army was a trusted name in trafficking, having done a lot of work in Orange County. It was a natural fit."
Indeed, Salvation Army leadership of the task force could prove valuable for years to come. Its larger infrastructure will create more opportunities to pursue grants, and its history of working directly with victims figures to expand the task force's reach and link more victims to resources.
The goal within the next five years is to form a brick-and-mortar anti-human trafficking services hub, wherein agencies can offer services in one location, Cheng said. The Salvation Army will, however, look to build on the "four Ps" developed by KCLB: prevention, protection, prosecution and partnership.
"So much is unknown about human trafficking and it's such a complicated thing," said Priscilla Santos,  Anti-Human Trafficking Awareness Coordinator for the Western Territory. "The facts that we share have been proven within our community and through our research, so that's what we choose to highlight through the community."
Over the last five years, the task force has grown from six women to a network of over 60 anti-human trafficking organizations.
Their services cover advocacy, shelter, basic needs, case management, counseling, education, emergency response, foster care, law enforceme
nt, legal services, mentoring and mental health.
The task force also holds monthly meetings—open to the public—and various training sessions. Topics may include how to identify possible signs of human trafficking and who to contact, or identifying personal strengths and how to best utilize them. Whatever someone's role in the community—a teacher, a nurse or a neighbor—everyone can do something to help.
"The Long Beach Human Trafficking Task Force is such a remarkable movement," Santos said. "To be a part of it and continue to focus on training the community to see and recognize human trafficking and know what to do and who to contact is super important."