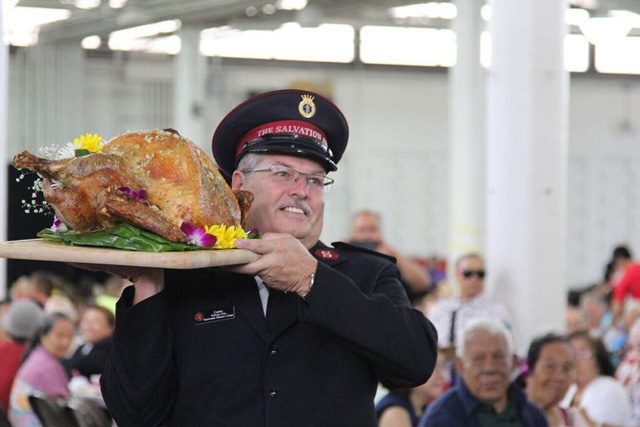 Salvation Army to distribute Thanksgiving meals throughout Hawaii
Bruno Mars donation enables Salvation Army to serve an additional 24,000 people.
The Salvation Army in Hawaii will provide approximately 5,000 Thanksgiving holiday meals through annual events at locations statewide from Hanapepe to Honoka'a, including the 48th annual Thanksgiving Meal at Blaisdell Center Exhibition Hall in Honolulu for approximately 2,000 guests (see schedule below).
Thanks to the donation from Hawaii-born superstar Bruno Mars, an additional 24,000 individuals across the state will receive Thanksgiving holiday meals via a voucher program through Salvation Army corps in Hawaii.
"With Thanksgiving quickly approaching, we wanted to highlight our annual Thanksgiving meal events by island," said Major Jeff Martin, Divisional Leader for The Salvation Army Hawaiian and Pacific Islands. "And, thanks to the generosity of Hawaii's own Bruno Mars, we will be able to provide an additional 24,000 individuals with Thanksgiving holiday meals through our 'Share a Holiday Feast' partnership with Foodland."
Martin continued, "Our hardworking corps officers, staff and volunteers will distribute the 'Share a Holiday Feast' vouchers to families, allowing us to now reach more families across the state through our outreach programs."
"We encourage those in need of a meal who can't attend our annual events, please reach out to The Salvation Army corps in their community. A complete list of locations can be found at hawaii.salvationarmy.org. And, those on Oahu may contact The Salvation Army Family Services Office at 808-841-5565. We also partner with other social service agencies as well and they can direct clients to our corps. And, Aloha United Way's 211 is always a valuable resource."
ANNUAL THANKSGIVING HOLIDAY MEALS SCHEDULE BY ISLAND
KAUAI
Hanapepe
Wednesday, Nov. 21, 2018
The Salvation Army Hanapepe Corps
4465 Puolo Road, Hanapepe, HI
10:30 a.m. to 12:30 p.m.
Lihue
Wednesday, Nov. 21, 2018
Lihue Convention Center
4101-4173 Hardy Street
10:30 a.m. to 1:30 p.m.
OAHU
Honolulu
Thursday, Nov. 22, 2018
Neal S. Blaisdell Center Exhibition Hall
11 a.m. to 1 p.m.
MAUI
Kahului
Wednesday, Nov. 21, 2018
University of Hawaii Maui College
Pa'ina Cafeteria Dining Room
310 W Kaahumanu Ave, Kahului, HI 96732
11 a.m. – 12:30 p.m.
HAWAII ISLAND
Hilo
Thursday, Nov. 22, 2018
Aunt Sally Kaleohano's Luau Hale
799 Piilani St, Hilo, HI 96720
12 p.m. – 1 p.m.
Kailua-Kona
Thursday, Nov. 22, 2018
Jackie Rey's Ohana Grill
75-5995 Kuakini Highway Kailua-Kona, HI 96740
10:30 a.m. to 1 p.m.
Sign up at The Salvation Army Kona Corps or at Jackie Rey's Ohana Grill. Delivery of plate lunches for elderly and shut-ins are also available. Call (808) 326-2330 to request a meal to be delivered.
North Hawaii Island
Thursday, Nov. 22, 2018
Each year, The Salvation Army Honoka'a Corps delivers Thanksgiving meals to those in need in North Hawaii Island with the help of local community partners and volunteers. To receive a meal this Thanksgiving, please contact The Salvation Army Honoka'a Corps at (808)-333-1248.